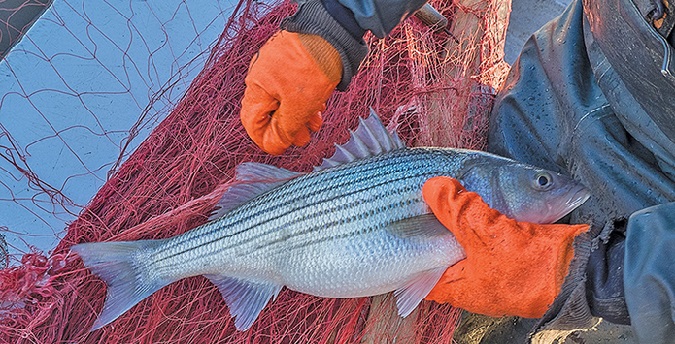 A new status review has found the striped bass population to be in worse shape than previously thought, a result that will almost certainly trigger new catch restrictions for the prized species next year in the Chesapeake Bay and along the East Coast.
A preview of a soon-to-be-released stock assessment presented in February to the Atlantic States Marine Fisheries Commission indicates that the striped bass population is overfished and has been for several years.
Members of the commission, a panel of East Coast fishery managers, knew that the migratory species has been in coastwide decline for more than a decade, but the new assessment paints a bleaker picture than many expected, including data that show recreational catches are significantly higher than previously estimated.
"We had all hoped that the results of the assessment would be a little better," said Mike Luisi, an estuarine and marine fisheries manager with the Maryland Department of Natural Resources. "It is clear that we need to do something."
Once the ASMFC officially accepts the new stock assessment, it will need to implement a plan within a year to end overfishing.
The commission can't adopt the assessment until its May meeting, though. Its completion was delayed by the partial federal government shutdown, which sidelined biologists with the National Marine Fisheries Service who were working to complete both the final document and the peer review report.
In the meantime, the ASMFC's Striped Bass Management Board has asked its technical advisers to estimate the amount of catch reductions that will be needed to restore the stock to an acceptable level.
"We know it is going to be pretty drastic," cautioned John Clark, of the Delaware Division of Fish and Wildlife, a member of the board.
Striped bass, also known as rockfish, is one of the most popular sport and commercial species in the Bay and along the mid-Atlantic coast.
Overharvesting, though, drove the population to record-low levels in the early 1980s. Widespread concern over the fate of the stock sparked a federal law that gave more power to enforce the ASMFC management plan for the species, which previously had been voluntary, resulting in steep fishing reductions. As part of the effort, Maryland closed its fishery for five years, and other states enacted shorter moratoriums.
The population rebounded, allowing harvests to gradually resume, starting in 1990. The stock was declared "recovered" by 1995, a result heralded as a fisheries management success at a time when many other species were in peril.
In the wake of its success, Congress passed a law requiring all East Coast states to adhere to ASMFC management plans or face moratoriums. By the early 2000s, the coastwide striped bass population had reached levels not seen in decades.
The recovery was helped by a period of extremely high reproductive success for striped bass, a species that lives much of its life in the ocean but returns to coastal rivers to spawn. In a 13-year span from 1993 through 2005, reproduction was at or above the long-term average 10 times in the Maryland Young-of-Year index, which is historically one of the best predictors of coastwide striped bass abundance.
Since then, reproductive success has been poorer, with a few good years mixed with several poor ones. As a result, the number of young striped bass "recruited" into the population has generally been declining since the mid-2000s.
Successful reproduction requires two things: lots of eggs and favorable weather conditions that allow larvae to survive long enough to be "recruited" into the overall population.
Some research suggests that certain climate patterns produce conditions that persist for a decade or more and are generally favorable (typically resulting in wet springs) or unfavorable (generally dry springs) for striped bass recruitment. While there may still be year-to-year variations, those long-term patterns can greatly affect recruitment success over time.
Because they can't control the weather, managers have tried to keep the abundance of mature female fish high to produce lots of eggs that will improve the chances of a strong "year class" of young when the conditions are right.
But spawning stock biomass, a measure of the adult female stock, has been declining steadily since 2010, according to the new preliminary assessment. In 2017, the estimated spawning stock biomass fell to 68,476 metric tons. That's well below the management threshold of 91,436 metric tons — the estimated amount in 1995 when the population was declared "recovered."
The assessment also shows that the spawning biomass has been below the threshold since 2012, meaning that the stock has been overfished. The scientists producing the assessment indicated strong confidence in that conclusion.
"The probability is very high that that is the case," said Mike Celestino, a member of the ASMFC's Assessment Science Committee who briefed the commission on the findings.
Part of the reason for the assessment's worse-than-expected results is new data showing that mortality from recreational fishing was higher than previously thought. Of particular concern was an increase in the number of "dead discards" — fish that die after being released by anglers. The assessment estimates that 3.4 million striped bass died after being caught and handled by anglers in 2017. That was 48 percent of all striped bass killed by all fishing activities that year and higher than the 2.9 million fish that were kept by recreational anglers. Biologists estimate that about 9 percent of fish die after being handled.
Some fishery managers say that means previous management actions to protect the population — which imposed new minimum catch sizes — may have backfired. Because the minimum size was increased in 2015, they say the number of fish that were handled and ultimately died may also have increased as anglers tossed back more small fish while trying to catch one of legal size.
"We need to rethink what we are doing," Luisi said. "Increasing minimum sizes as a mechanism for reducing harvest only leads to more dead discards. Dead discards is a big problem."
A number of fishery managers indicated they would like to see the commission consider a broader array of options to reduce harvest. That might include things like gear restrictions or shorter seasons, which could reduce the number of fish being handled. Maryland, for instance, has been requiring the use of a less-lethal type of hook for certain fishing techniques during warm seasons when fish are more stressed and the mortality of released fish is higher.

Another problem, Luisi and others say, is that as other species have declined, there has been an increasing focus on catching striped bass. And, some say management plans need to better account for changes in technology that help anglers find fish and use social media to quickly share hot spots with others and increase catches.
"The fish can't escape the fisherman anymore," said Martin Gary, executive director of the Potomac River Fisheries Commission. Further, Gary said, poor water quality — such as areas with low-oxygen levels — increasingly lead fish to congregate and make them easier to target.
"From my perspective," he said, "I think we are going to need every tool available to us to do the best job we can to get this resource back to where it needs to be."
Another possible topic for ASMFC discussion is the current goal of maintaining a spawning stock at or above the 1995 level. Some contend that this reference point for managing the stock could be unrealistically high, especially for a species whose reproduction is so variable.
"I do anticipate a conversation about the reference points," said Max Appelman, fishery management plan coordinator for the ASMFC.
Any actions involving striped bass are certain to spur passionate debate. Many recreational anglers have long sought to declare striped bass a "game fish," which would prohibit commercial catches, and those calls are likely to be amplified in the wake of the assessment's findings.
But, said Robert Newberry, chair of the Delmarva Fisheries Association, a seafood industry group, the total coastal commercial harvest in recent years has been 10 percent or less of the entire catch and is limited by a fixed poundage quota, unlike the recreational fishery.
More focus should go toward dealing with the dead discards of anglers, he said. "They have always found a way to wiggle out of being held accountable for the amount of fish they are catching and destroying," Newberry said.
David Sikorski, executive director of the Coastal Conservation Association – Maryland, said he wasn't surprised at the estimated number of dead discards, given the popularity of striped bass, which migrate along the most populous part of the coast.
While that number was high, he said, it shows that about 37 million fish were actually caught, with many anglers simply enjoying the catching and releasing of fish. "That's a lot of boats, a lot of tackle, a lot of people out on the water accessing the resource," he said.
Sikorski said the overriding problem for striped bass has been low reproductive success in recent years, and that more needs to done to improve habitats and water quality to help young fish survive.
He said anglers, many of whom supported more aggressive action to reduce catches in 2015, would like to see states act quickly to protect the stock, including new restrictions this year. "We are going to be facing large cuts without a doubt," Sikorski added.
While most everyone agrees on the need to act, many caution that the stock is nowhere near the crisis level that spurred the previous moratorium. Today's spawning stock biomass, while declining, is still four times higher than it was in the early 1980s.
"We're not in crisis mode with this," said Chris Moore, regional ecosystem scientist for the Chesapeake Bay Foundation. "We're not in a situation like we were in the early '80s when we really needed to make huge changes in the way we managed the fishery. But we have a stock that hasn't performed as well as we would like it to for the last 10 years or so, and we need to make the necessary adjustments."
By Karl Blankenship, he is editor of the Bay Journal and executive director of Bay Journal Media. He has served as editor of the Bay Journal since its inception in 1991.
Related:
Assessments Completed On NE Summer Flounder & Atlantic Striped Bass Stocks
STRIPED BASS ARE BEING OVERFISHED; MORTALITY REDUCTIONS CRITICALLY NEEDED
The post ASMFC expected to set stricter regs for harvesting striped bass appeared first on OutDoors Unlimited Media and Magazine.