YouTube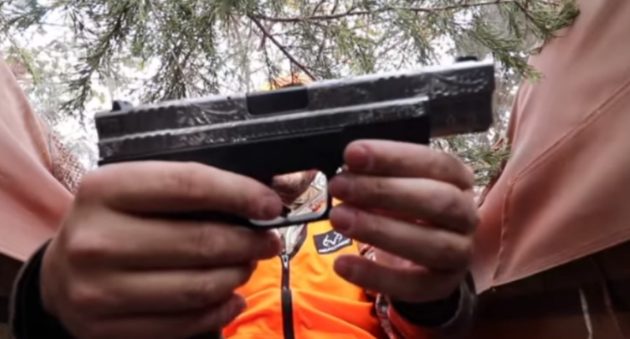 This Arkansas deer hunt to fill a tag with a pistol requires hunting in close quarters. 
Steven Fuller, host of The Huntin' Grounds, aims to fill a tag with his pistol on a late season Arkansas deer hunt. He makes use of a layout blind in a thorn thicket to cover his silhouette with one goal in mind, to kill a deer with a pistol.
The area he is hunting is a CWD zone which allows hunters to take any deer. Thus, in this episode Steven does just that. What does he end up shooting? You'll just need to watch and see it for yourself.
The encounter starts out with a fawn entering the plot. Steven patiently waits for any other deer while hoping not to get busted by the deer. He says at the beginning of the video that the scent cone is tight. He takes several scent control precautions which eventually leads to his success.
At last light, while self-filming, a deer enters the plot. He aims with his open sight handgun. He fires and knocks the deer on the ground at close range. At first Steven admits he thought it was a doe. Come to find out the deer is actually a shed buck.
Steven explains how it is unusual that the buck has already shed at that point in the season. However, he reiterates that he wants to reduce the population on the farm. Additionally, Steven successfully fills his first tag in Arkansas.
Like what you see here? Read more hunting articles by Nathan Unger at whitetailguruhunting.com. Nathan is also the host of the Whitetail Guru Hunting Podcast.
NEXT: THIS TIME SERIES MAP OF CWD IN AMERICA SHOWS HOW SERIOUS IT IS
WATCH
The post Arkansas Deer Hunt With a Pistol: Can It Get Any More Intense? appeared first on Wide Open Spaces.