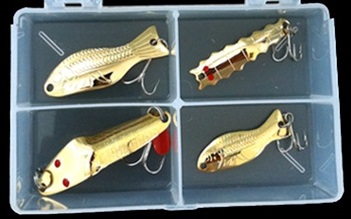 Looking for a value pack lure kit and you know that gold metal lures are a must, then check this out. This kit from Al's Goldfish is what you need. CONTAINS: 2 Sizes of our Original Al's Goldfish G100 & G200- named by Field & Stream Magazine as one of the 50 Best Lures of All Time, a Helgy- essential to trout fanatics from coast to coast, and Forty Niner with it's unique action that attracts bass to trout and everything in between. All plated in 22kt gold and comes in a tough little flambeau tackle box. ORDER LINK
G100 & G200 – The Original Al's Goldfish was named "One of the Best 50 Fishing lures of All Time" by Field & Stream magazine because of it's long history of catching trout, walleye, and pickerel. It has been a must have fishing lure in every tackle box for over 60 years. If you want a fishing lure with proven action, that catches more fish, then you need look no further than the Al's Goldfish. 
Helgy – Nothing compares to the flash of real gold. One Of The All Time Great Trout Lures! A great story told to us by a fisherman concerned his last hard-to-find Helgy. His tried-and-true trout catcher got caught in a branch overhanging the river and he could not get to it. Rather than give up on that last Helgy, he went home, got his shotgun and shot the branch off to retrieve his Helgy! Gotta Love It!
Forty Niner – A unique big trout and salmon lure. Cast it or troll it, you will not be disappointed. Action similar to a flat fish but way more durable than traditional trolling lures. The 49er has been a favorite in Maine for its consistent ability to trigger strikes from big native trout. Check out the video's below to see it in action.
The post Al's Goldfish Gold Medal Kit appeared first on ODU Magazine-North America's #1 Digital Fishing Magazine.