Amazon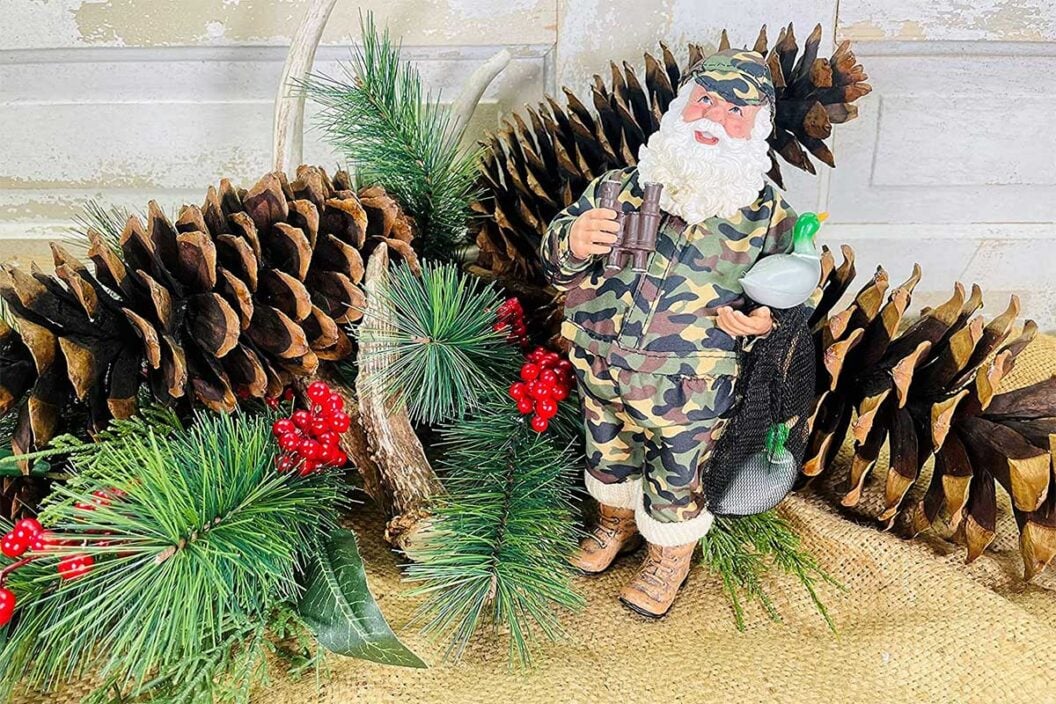 When the temperatures drop and the days become shorter, we take it as not only a fun time to enjoy hunting in the great outdoors, but also a time to switch into holiday mode. Christmas lights on your house, ornaments on your tree, and all the other meaningful decorations make their appearance and help put everyone in the holiday spirit. But what about the avid hunters of the world; what sort of things should they use to decorate their home, office, and Christmas tree? These hunting-inspired holiday decorations are sure to have you ready to deck the halls.
Products featured on Wide Open Spaces are independently selected by our writers and editors. However, when you buy something through our links, we may earn a commission.
Personalized Hunting Ornaments
What could be better for the hunter in your life than a personalized hunting ornament for the Christmas tree? Ornament Shop has several different styles to choose from and they are as cute as can be. Choose from a bowhunter, a rifle hunter wearing an orange vest and hat, a female hunter, a hunting vest, a deer head, and more. Most can be personalized with a name, some with a name and a location, and others with a special message. There are even fishing ornaments to choose from too. These ornaments range from $10 to $16.
Duck Hunter Santa Figurine
Here's a 10-inch figurine that features Santa dressed head to toe in his camo hunting clothes. Santa proudly shows off his duck decoys with a big jolly grin. This polycotton, resin, and plastic figurine is a decoration meant only for indoor use. It will look right at home on your display table and bring fun and delight for many seasons to come.
Redneck Nation Plunger Christmas Tree
Add a little humor to the holidays with the ProductWorks 18-Inch Redneck Nation Christmas Tree. It is delightfully goofy and meant to be shown off with a sense of humor. Tree branches attach to a wooden handle which is supported by a toilet plunger base. Hang ornaments, clever decorations, or leave it bare for a silly addition to general Christmas decor. Just keep in mind, the plunger tree is for decoration only and is not designed for actual use on any toilets!
Plastic Deer Lights
The Kurt Adler 10-Light 4.5-Inch Plastic Deer Light Set brings a little cheer to any hunter's holiday home. This pre-lit light set features ten lights on a 30-inch green lead wire, with 12 inch light spacing. Included with the light string are four spare bulbs and one spare fuse, plus a four-inch end to end connector. So string them up, plug them in, and have a Merry Christmas!
Shotgun Shell Christmas Lights
The Shotgun Shell Light Set from Amazon provides a fun and cheerful boost to your holiday decorations. The ten count light set comes strung on a green lead cord, and each shotgun shell light has 12 inches of spacing between. This light set can be enjoyed either indoors or outdoors, and end-to-end connectors allow the user to connect multiple sets together. Of course, it comes with spare replacement bulbs and fuses.
Santa Deer Hunter Nutcrackers
The Santa's Workshop 14-inch Hunter Nutcracker, available with both full camo and blaze orange outfits, is a charming tabletop decoration to add to the holiday collection. Both nutcrackers are found on Amazon, among other places, and feature a rustic inspired design (but unfortunately are not meant to actually crack nuts!).
Bass Pro Inflatable Yard Decorations
It should come as no surprise that one of the most well-known outdoor stores carries a robust line of outdoor-inspired holiday decorations that includes some fun inflatables. The regular holiday collection includes a Santa-and-reindeer campfire, a camper, and even a deer driving a Tracker boat with a wakeboarding Santa being towed behind it. New this year, Bass Pro has debuted an inflatable animated outhouse which features Santa Claus getting pranked by his reindeer during a bathroom break. It has an integrated LED light system that pairs with a rocking animation to make it fun to view both day and night. The inflatable outhouse decoration comes with an electric blower for fast, easy inflation. It also includes four tether ropes and six stakes to secure it in wind. Like the other inflatables in the collection, this one is weather-resistant, so it can be set up outside as well as inside. The Bass Pro inflatables range in price from $70 to $130.
The post 7 Hunting-Inspired Holiday Decorations to Deck the Halls appeared first on Wide Open Spaces.