Danner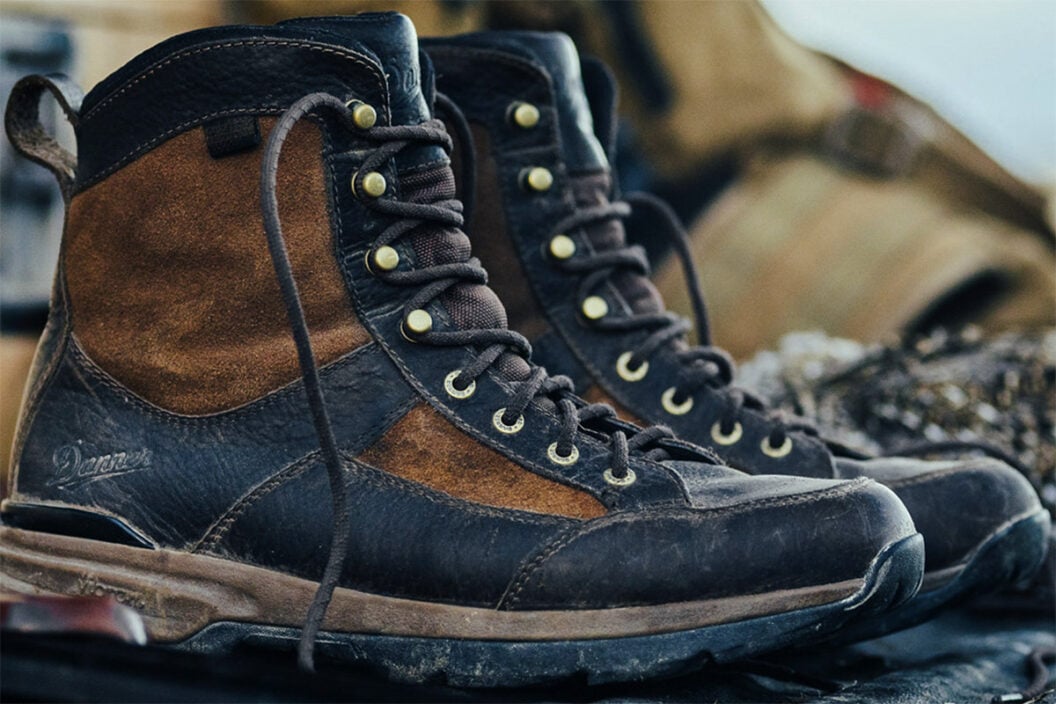 When you're thinking of crucial pieces of gear that will add to the success of your turkey hunt, a common, itemized checklist that pops into your head probably looks something like this: shotgun, turkey vest, extra shells, and turkey calls. Give or take a few interchangeable items. But one piece of gear that oftentimes gets overlooked, but perhaps is one of the most crucial items on your gear list, is a solid pair of quality boots.
If they were left off of your "crucial gear" list, you aren't alone. In fact, I would venture to say that most people just consider any hunting boots will do the trick for spring gobblers, I mean, it's not like you're going to be pursuing bighorn sheep in the mountains of Northern Alberta, right? That's a mistake I have made, ashamedly, multiple times.
True, the terrain and conditions you'll see pursuing longbeards in the spring woods likely aren't the worst hunting conditions there are, but that doesn't mean your hunt won't get ruined due to inadequate footwear malfunctioning on you. Just last year I was meeting some friends down in Mississippi to go after some Toms in the swamps just off the delta. The day before I stopped at a local sporting goods store and decided to purchase some clearance boots that had an attractive price. Come to find out, within 30 minutes of my hunt, my feet were soaked. I was miserable, not even the thunderous roars of gobbles could keep me positive.
Another scenario was a trip I took a few years ago out west to Montana, a couple of friends and I were eager to scratch Merriam's off our list, and to say we were excited for the task would be an understatement. While packing for the trip, I noticed some old rubber boots that I had used for deer hunting in past seasons, and figured, "Yeah, those will work." Needless to say, I came home with seemingly countless blisters, and some sore ankles.
Alright, alright, enough convincing. Now that I've explained just how important a quality pair of boots are to your turkey hunting success, and just how detrimental the wrong pair can be, let's dive into some of the best boots that I have found that will make this spring turkey season one for the books!
Danner Recurve
It's no secret that Danner makes some impressive boots. I've used them stalking pronghorn outside of Bozeman, all the way to ambushing Javelinas down in Texas. But I have never experienced what their quality can do in the turkey woods. That is, until last year, when I decided to put the Recurve model to the test.
I immediately noticed just how comfortable these boots were. The Vibram SPE midsole, paired with the TPU heel clip almost made them feel more like running shoes, with the functionality of hunting boots of course. The OrthoLite footbed was a nice touch and was well appreciated when I was on my feet, running-and-gunning after some longbeards. This boot also has a 100-percent waterproof barrier that will wick out moisture from sweat, while still preventing any moisture from coming in, so you won't have to worry about accidentally stepping in any puddles.
Overall, this is a great boot for the hunter that is looking for a more technical boot and can withstand that $230 price point. This boot comes in a well-fitting Mossy Oak Bottomland pattern, as well as brown for those hunters who love their solids.
LaCrosse NWTF Alpha Agility Snake Boot
It would be hard to compile a list of the best turkey hunting boots without mentioning the boot that LaCrosse designed specifically for those gobbler enthusiasts. Based on the Alpha Agility model, LaCrosse partnered up with NWTF (National Wild Turkey Federation) to create a dedicated boot that all hunters could appreciate.
From a design aspect, this boot is essentially flawless. The traditional waterproof rubber layered offer insulating neoprene is something we have all come to expect with LaCrosse, however, the company took it a step even further with its moisture wicking, jersey lined interior, its lightweight LXA midsole, and of course, its "fangproof" flexible, snake guard, for those hunters who are so dedicated that they explore venomous territory.
LaCrosse has long been a household name for quality boots that were built with outdoor enthusiasts in mind. It's amazing to see them partner with the NWTF to design this shoe specifically for turkey hunters, and I can see from experience, it is worth its $220 price tag.
Chêne Gear Zippered Knee Boot
Chêne Gear has recently taken the waterfowl world by storm, with the design of their advanced waders, breathable waterproof outer layers, and an impressive lifetime warranty. When I first purchased the zippered knee boot, the only thing I had in mind for them was field hunting geese, and they performed incredibly in that pursuit. However, last season I decided to try them out in the turkey woods to see how well they could make that transition, and to be honest, they performed better than most of the so-called "turkey hunting" boots on the market.
Their design team did an incredible job of designing a boot that didn't actually feel like a boot. I wore them on almost ten hunts last season, and going up and down rough terrain in wetter than usual conditions was surprisingly easy due to their custom tread pattern. The full length side zipper makes them extremely easy to get on and off, which is something I think every manufacturer should take notice of.
These boots retail at $200 on the Chêne website, and honestly, they have the quality of a boot in a much higher price range. The extra 7mm innersoles was something I didn't even know I wanted until I had them, the quick dry liner was extremely impressive, and the durability is nearly unmatched. Let's just hope we get to see them in additional colors and patterns, because I'm already looking forward to picking up a new pair.
Crispi Briksdal GTX
For those hunters who are addicted to the run-and-gun method (such as myself), the Briksdal GTX by Crispi is going to be your new favorite boot. What was designed solely for big game mountain hunters, has become adopted by turkey enthusiasts who love to hunt birds while on the move. The Briksdal GTX is Crispi's stiffest model, with a flex rating of 4. This becomes a game changer when you have to make quick moves while hauling decoys and packs, all while still trying to remain silent and undetected.
While the comfortability and adaptability of this boot is incredible, the real draws are the technical features. The asymmetrical lacing is a genius design that allows you to customize your lacing depending on what type of terrain you are hunting in. The ABSS Ankle Support System allows you to be confident that you won't get injured from inconsistent ground. To save the best for last, the Briksdal features a waterproof bootie by Gore-Tex, which if you know what that partnership means, you know this is a special product.
The retail price of the Briksdal GTX is $435, which is without a doubt on the higher end of the spectrum. While I don't think this is a boot for every hunter, the quality represents the price point quite well, and for any hunter who prefers to be mobile, it' hard to beat this boot.
The post 4 of the Best Turkey Hunting Boots on the Market Today appeared first on Wide Open Spaces.