Bruce Gifford/Getty Images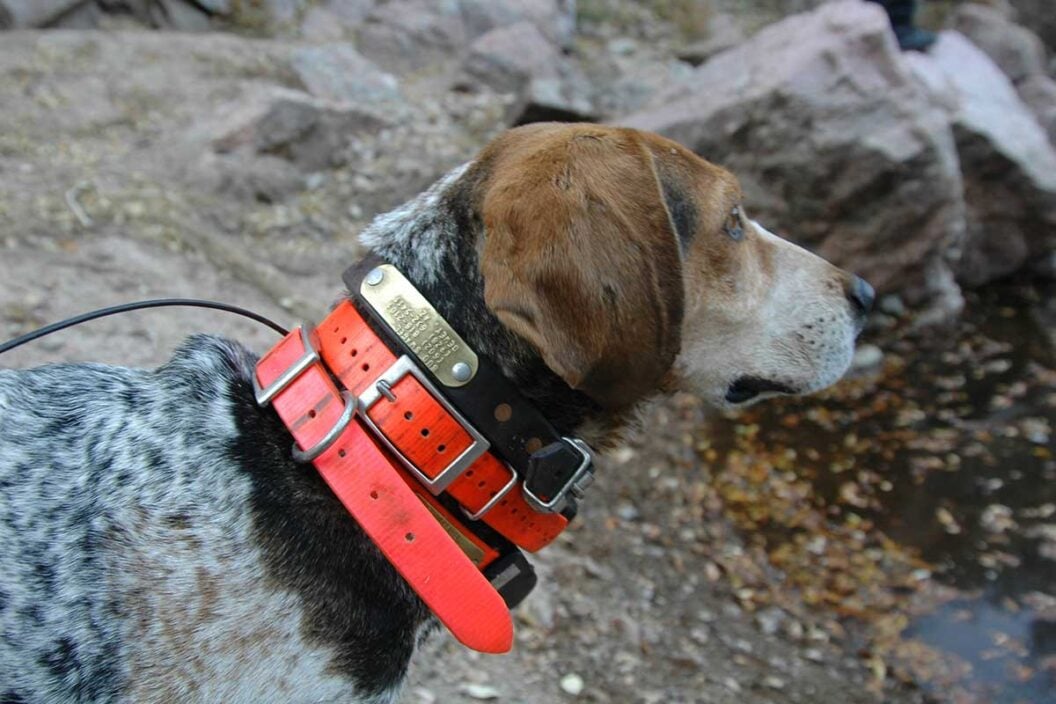 No combination on Earth quite compares to a well-trained hunting dog and its owner. To get to that point requires dedicated time, extensive training, and trust-building between the two. And having good equipment can help. Here is our pick for the top four collars for hunting dogs, based on price, functionality, and reviews.
Advice for Buying Hunting Dog Collars
While every hunting dog is different, not all of them require the same type of dog collar. Some are strictly for training purposes and provide stimulated actions like shocks and sounds, while others help track your dog when it gets out of eyesight. These days, with such sophisticated technology at their disposal, some companies are making versions that can do both. Think about what type of hunting you and your dog will be doing, and apply that directly to the type of hunting dog collar you want to zoom in on.
An upland bird hunter working with flushers or pointers will undoubtedly benefit from a collar, as will a duck hunter working with a retriever. Tracking dogs that chase everything from rabbits to raccoons to mountain lions will certainly need tracking functions for when they're hot on the trail.
Once the functions are determined, you can look for more features that can give you and your four-legged hunting partner an edge. Weatherproof (and even full on waterproof) capabilities and a rugged, tough design are worthwhile features that protect against the elements and heavy use. A strong, rechargeable battery life is important to avoid cutting a hunt short, and of course a long range of around a mile should be sought out.
The Budget-Minded Hunting Dog Collar

The Dogtra Pathfinder GPS Tracking and Training E-Collar is a solid pick. Of the three brands on this list, it will set you back the least without compromising quality. It still has all of the abilities to train and locate a hunting dog in the field. It is consistent and reliable, and has an impressive zoom capability that provides excellent live-action detail and accuracy in the field. It can also track other hunters, share locations, play back data, and create customizable geofence alerts. This model can track up to 21 dogs using additional collars. It has a range of 9 miles and a two-second update rate. For training, it has various levels of stimulation and a non-stimulating tone command.
The Dogtra Pathfinder GPS Tracking and Training E-Collar is unique because instead of relying on a handheld GPS, it pairs with a smartphone. Fortunately, it doesn't rely on cell service. The hunter can download the maps for free and operate it in Offline Maps mode. This has to be done prior to leaving cell service. There is also access to Google Maps with normal, terrain, and satellite views. Bonus: It does not require a monthly subscription.
Specifications:
Expandable up to 21 dogs or 21 hunters
9-mile range
Two-second update rate
GPS technology
Access to Google Maps and free maps download to operate in Offline Maps mode
Zoom capability
100 levels of momentary and constant stimulation
Audible tone
Geofences
Share locations and play back data
Waterproof
Dogtra – T&B Dual 2-Dog
Another pick from Dogtra is the T&B Dual 2-Dog, which is designed for upland hunting dogs. This advanced DUAL DIAL Training and Beeper (T&B) e-collar has all of the needed features, including 127 nick/constant stimulation levels, HPP vibration, locate peeper, and run/point beeper modes. The T&B Dual 2-Dog has a maximum range of 1.5 miles. It comes with two training and beeper collars that are paired with a unique handheld remote that features two rheostat dials and buttons that are dedicated to each collar, making it easy to make corrections without having to toggle back and forth between the two collars. It is equipped with Dogtra's industry-leading technology filtering system to ensure minimal interference with other electronic devices. The Dogtra T&B Dual 2-Dog retails for $550.
Specifications:
Up to 1.5-mile range
Fully waterproof ergonomic collar and receiver
127 levels of stimulation ranging from low to high
OLED screen
Two sets of rheostat dials and buttons dedicated to each collar
Equipped with the new Accelerometer sensor
SportDOG SportHunter 1825X Remote Training Collar
For a great collar to train hunting dogs, look no further than the SportDOG SportHunter 1825X. It was developed and field tested using feedback directly from actual hunters. It is fully customizable for dogs over 8 pounds and any level of behavior. The SportDOG SportHunter 1825X retails for $320.
Specifications:
Designed for ease of use and no-look operation
Various levels of stimulation allow for more customized training
Upgraded, matte collar strap for receiver
Up to 1-mile range
Up to 21 levels of static stimulation with low/medium/high ranges
Option to train with vibration and tone
Supports training up to six dogs
Waterproof and submersible to 25 feet using DryTek® technology
Rechargeable lithium-ion batteries charge in two hours
Garmin TT 15X Dog Tracking and Training Collar

Announced this year along with the Garmin T 5X, the TT 15X Dog Tracking and Training Collar follows a long reputation for Garmin quality. It is built tough and waterproof so it stands up to harsh hunting conditions. The top-mounted GPS and GLONASS receiver has a 9-mile range. This dog collar has LED beacon lights that can be activated remotely and are visible up to 100 yards away. The TT 15X Garmin Collar comes with a rechargeable battery and has a handy sleep mode to conserve battery life.
This collar can be paired with the Garmin T 5X for superior location tracking with access to a greater number of satellites. The Garmin TT 15X Dog Tracking and Training Collar retails for $350. The handheld device must be purchased separately.
Specifications:
Top-mounted GPS and GLONASS receiver
Tracks up to 9 miles away
Water-resistant to 10 meters
18 levels of stimulation
Audible and vibration modes
LED beacon lights can be seen up 100 yards away
Rechargeable battery lasts up to 80 hours
Comes with a 1-inch collar strap
The post 4 Best Hunting Dog Collars appeared first on Wide Open Spaces.