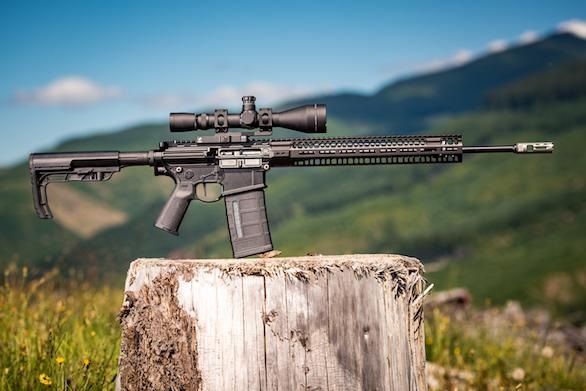 The AR15 is an incredible rifle but it largely overshadows the AR10 and its ability to shoot large calibers while retaining all the benefits of the AR15 platform. Interchangeable components and the flexibility to completely customize and accessories on the picatinny rail all come with a stock AR10.
2A Armament is answering the call for large caliber, distance shooting with the superior XLR-20 design in the popular 6.5 Creedmoor caliber. The 6.5 Creedmoor has taken root among distance shooters and hunters for its accuracy qualities at short and long distances. It's an incredible round and 2A's experienced shooting staff does it justice with a rock solid, finely machined AR10 rifle.
The XLR-20 has the option for KUIU Camo print for tactical and hunting uses. It also has a black stock option that suits most shooters as well. Like all of 2A's rifles, the XLR-20 is machined to perfection using a CNC machining process. The Full Mass bolt and carrier is cryogenically treated and creates a comfortable shooting platform ready for repetitive shooting.
The biggest advantages delivered by the XLR-20 are the precision build, durability and consistent performance with every round that passes through the chamber. When it comes to a larger rifle, many hunters and shooters are prepared to take on the extra weight. The XLR-20 is so finely tuned that it only weighs 6.85 pounds, making it lighter than most small caliber rifles. If you are trekking across long distance and hauling your rifle through the backcountry for days on end, the weight savings are an absolute game changer.
Key Product Specs:
2A LOWER RECEIVER – CNC machined 7075-T6 billet with flared mag-well, rear tensioning screw, rear take down spring retainer, and screw in bolt catch pin.

2A UPPER RECEIVER – CNC machined 7075-T6 billet, "slick side" design, retained port door rod, M4 style feed ramps, machined T numbers in picatinny rail.

2A BOLT AND CARRIER (Full Mass) – 8620 machined body with QPQ process, 9310 machined bolt, cryogenically treated, MPT, QPQ process.

2A HANDGUARD – Xanthos Lite 15″ XSC, 6061 extrusions with aluminum barrel nut.  M-LOK format.

2A BARREL -20″ 2A contour lightweight 6.5 Creedmoor profile, 4150 gun barrel steel with QPQ Nitride, black oxide extension, rifle-length gas system, 6.5 Creedmoor SAAMI Chamber, 1 in 8 twist

2A GAS BLOCK – .750 dia titanium gas block.

2A MUZZLE DEVICE – .308 X4 steel brake

2A RECEIVER EXTENSION – Mil-spec, 8 position 6061-T6, standard H2 buffer.

BCM-Gunfighter 762 mod 3 charging handle.

STOCK/GRIP – MAGPUL MIAD Grip, Mission First MFT stock.

TRIGGER – Timney,Two stage, flat trigger, 2lb set/2lb release

LOWER PARTS – Mil-spec safety, magazine catch, bolt catch, through drilled 2A titanium takedown pins.

Ships with one 10 round MAGPUL P-MAG and die cut foam box

WEIGHT – 6.85 pounds
The post 2A XLR-20 AR10 appeared first on .