Z-Man Fishing Products, manufacturer of Original ChatterBait® brand bladed swim jigs and 10X Tough ElaZtech® soft plastics, is pleased to announce the release of its next game-changing bait—the new ChatterBait Jack Hammer custom bladed jig—on March 24th at the Bassmaster Classic Outdoors Expo. A free, open-to-the-public event that showcases the latest and greatest in fishing and outdoor products, this year's Expo will be held at the George R. Brown Convention Center in Houston, TX.
As with its ChatterBait Freedom

release at the 2016 Bassmaster Classic, the ChatterBait Jack Hammer reflects Z-Man's willingness to partner with another forward-thinking tackle company—in this case, leading Japanese lure maker Evergreen—to offer anglers more bladed jig options based on its patented, tournament-winning design. Built in Evergreen's factory, the Jack Hammer will be marketed and distributed exclusively by Z-Man in the United States.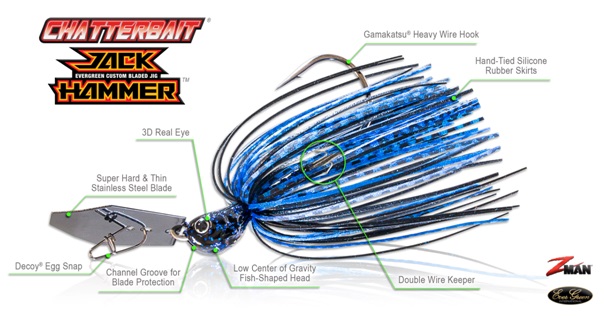 The latest example of Z-Man's commitment to continually evolving, improving, and expanding a bait that's unmatched in its ability to deliver a crankbait action, jig profile, and spinnerbait flash, the ChatterBait Jack Hammer raises the bar on premium construction and detail, yet again. Built around a heavy duty black nickel Gamakatsu® flipping hook, the Jack Hammer's head shape—equipped with lifelike 3D eyes—facilitates a low center of gravity for balance and easy skipping. It also touts a super-strong, snag-resistant Decoy® Egg Snap line tie, and hard and thin, stainless steel hexagonal ChatterBlade®. Additionally, its dual-wire trailer keepers hold all types of soft plastic trailers more securely than ever before. To round things out, the Jack Hammer features hand-tied silicone skirts in patterns that have been personally designed and selected by ChatterBait pro and bladed swim jig guru Brett Hite, in addition to highly detailed, color-matched head and blade paint schemes.
"Two-and-a-half years ago, we set out to produce the best bladed jig the fishing industry had ever seen," Hite exclaims. "Simply put, I wanted a bait that would run better and feature superior components, and the Jack Hammer over-delivers on both fronts. It vibrates instantly, skips and swims unbelievably, and holds up to the rigors of tournament-level fishing better than any other bladed jig I've fished. I'm super excited to be working closely with Z-Man and Evergreen on this unbelievable bait, and am confident the Jack Hammer will help boost my tournament performance and earnings, as well as help anglers of all skill levels boat more fish."
 "In addition to being perhaps the most proficient bladed jig fisherman on the planet, Brett is one of the most meticulous pros I've met when it comes to lure design," remarks Z-Man President, Daniel Nussbaum, in describing the company's newest world-class Pro Staff addition. "When combined with the attention to detail that goes into Evergreen's manufacturing process, the result is a bladed jig that is truly second to none in terms of quality, performance and construction. The ChatterBait Jack Hammer is an ultra-premium bait that all serious bass anglers will definitely need in their tackle boxes."
Seiya Muto, Senior Manager of Evergreen's Business Division, adds, "We are extremely grateful for the opportunity to collaborate with Z-Man on the ChatterBait Jack Hammer. Having been painstakingly developed, tested, and fine tuned over the last several years by Brett and Evergreen pro, Morizo Shimizu, both anglers have provided invaluable insights into the Jack Hammer with the goal of making it absolutely perfect—as well as a go-to bait for performing at the highest level in the sport's pinnacle tournaments. We're confident that the world's top anglers will rely on this bait in the coming years, and that anglers of all skill levels will be able to achieve similar success, as well."
Offered in 3/8- and 1/2-ounce weights, and 10 amazingly lifelike color patterns, the ChatterBait Jack Hammer will retail for $15.99.
For more information, or to schedule an interview, contact Jeff Espy with Adventure Advertising, LLC at [email protected] or (678) 730-4770, x208.
Media  interested  in  accessing  hi-res  ChatterBait Jack Hammer  product imagery  can  do  so  by  visiting: https://www.dropbox.com/sh/d1ha6bbcdk4yzxm/AACtnBcUkGlWJyd6nne1mADNa/ChatterBait/ChatterBait%20Jack%20Hammer?dl=0.
About ChatterBait®
Conceived in a garage in South Carolina and originally produced by RAD Lures, the ChatterBait bladed jig burst onto the scene in 2006 with Bryan Thrift's epic FLW tournament win on Lake Okeechobee.  Demand for the first-of-its-kind bait skyrocketed virtually overnight, and RAD Lures enlisted the help of fellow South Carolina manufacturer Z-Man Fishing Products to meet rapidly growing consumer demand.  In 2008, Z-Man purchased the ChatterBait brand and associated intellectual property from RAD Lures, and has been continually growing and refining the ChatterBait product line ever since.
While many other fad lures and techniques have come and gone, the ChatterBait line has demonstrated supreme staying power and has, in fact, effectively created an entire new category of fishing lures.  Over the last 10 years, the ChatterBait bladed jig has been a mainstay among tournament anglers, and has arguably racked up more tournament winnings than any other lure in that period. From panfish to redfish, Z-Man now offers a full spectrum of bladed jig options to cover fresh- and saltwater anglers' needs.  The groundbreaking ChatterBait bladed swim jig design is protected by three utility patents, as well as trade dress registration on its distinctive, hex-shaped ChatterBlade®.
About Z-Man Fishing Products
A bold, dynamic, Charleston, SC-based company, Z-Man Fishing Products has prided itself in bringing technology to anglers for nearly three decades.  Z-Man has long been one of the industry's largest suppliers of silicone skirt material. But, even though the company's Original ChatterBait was creating stir on the major bass circuits, only a handful of pros associated Z-Man with this tournament-winning lure.
Today, however, all that is changing. Every day, Z-Man's amazing 10X Tough ElaZtech soft plastics, skirted jigs, jigheads, and accessories are gaining momentum among the world's premier fresh- and saltwater baits, helping make it one of the fastest-growing lure brands worldwide.
The post Z-Man Fishing Breaks The Mold With The New Chatterbait Jack Hammer appeared first on ODU Magazine-North America's #1 Digital Fishing Magazine.