By Luigi Salvatore
Special to Outdoor Enthusiast Lifestyle Magazine
I have hunted wild birds in New England for nearly five decades – since my uncles introduced me to the experience when I was a young teen.  Over those decades has come the privilege to hunt in the region's best conceived and realized lodges, from intimate facilities to grand, expansive domains.  Diverse in their designs and accommodations, all share a most important quality: they epitomize hunting in New England, in all its unique, pristine, timeless beauty.
Here, in brief review, are my choices some of the best of the best.
---
Markover Hunting Preserve
Let's begin with my favorite intimate lodge, the Markover Hunting Preserve in Danielson, Connecticut.
While the majority of its hunts are behind pointing or flushing dogs, tower shoots retain immense popularity. Markover boasts twelve stations arranged in a circle around a central tower.  Each station accommodates two shooters who are challenged by birds that emerge suddenly and a full speed over the tree tops. The shooters rotate stations to ensure access to the hottest spots of the day
From the Markover website: "Springers, Labs and Goldens along with their handlers retrieve the downed birds as the shoot progresses. All birds are evenly divided between the shooters at the end of the day and can be traded for cleaned birds for a small fee."
Yet make no mistake: at Markover, the focus is on hunting fields boasting an extraordinary variety of natural cover that is sensitively and creatively maintained off-season.  The hunting habitat universally associated with New England is low, well managed brush.  Markover's fields boast a mix of prairie grass and low pines.
With Oak pegged post and beam construction throughout its main room, the lodge itself invites guests with its home-away-from-home size and furnishings.  A full kitchen serves up to six guests in two main floor bedrooms, with an additional four comfortably accommodated in a loft.
I'll use the word again: timeless.  During my visit to Markover I felt that I had "ejected" into a simpler time when life was earned on a daily basis, and any attendant struggles were eased by full, romantic immersion into the natural world from which we came.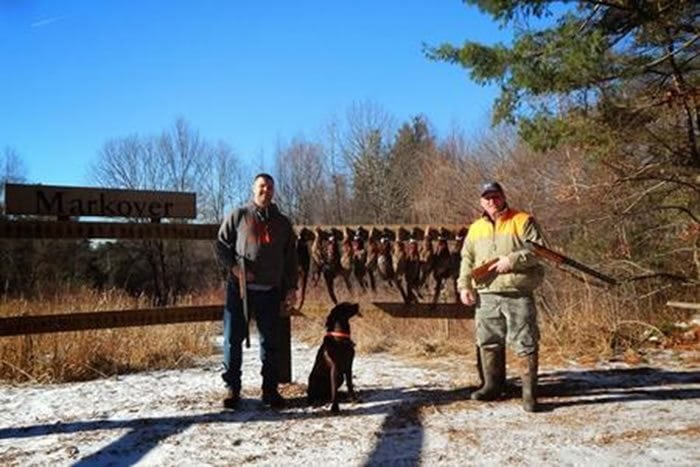 Markover Hunting Preserve
699 Cook Hill Road, Danielson, CT 06239
Phone: (860) 774-4116
www.markover.com
---
The Preserve at Boulder Hills
From the intimate, we move on to embrace an experience grand in every respect.  Yet after three visits, The Preserve at Boulder Hills has not loosened its grip on my imagination – a grip that originates with an overpowering sense of belonging.  At the heart of this Wyoming, Rhode Island four-seasons sporting retreat are shooting sports.  Hunters of upland birds and fowl simply will not want to leave a 500 acre-plus environment where a life in nature and a luxury lifestyle somehow find common ground.
The Preserve boasts eight new bird hunting fields.  The smallest measures 300 X 100 yards.  Man and dog bond on shoots for stocked game – an experience that melds ancient and modern experiences of the eternal natural world.
Also available is a new European toward stand that at 210' above lower stations is the tallest in the Northeast.  A total of 12 stations can accommodate 24 shooters, who also enjoy the services of numerous guides and dogs.
The Preserves amenities are too numerous to mention, and they're outside the focus of this piece.  But I have to add that bird hunters can enjoy, on-site, two sporting clays courses, a skeet field and a trap field.  And currently under construction is an underground shooting range with 16 lanes at 100 feet and four rifle lanes at 100 yards.  Put simply, it will be the longest public indoor undergrounds shooting range in the country.
Also on The Preserve grounds is a Sporting Shoppe that offers the finest guns and an absolutely comprehensive collection of hunting equipment and clothing.  Seeing is believing.
Try as I might, I could not find a single flaw worth mentioning at The Preserve.  The hunt … challenge and reward … challenge and reward … The Preserve, in my humble estimation, is a cathedral celebrating life in all of its … well … challenge and reward.
Or as Larry Martin, CEO and Founder of Field and Stream Products, put it, "I've shot around the entire country and this is by far the best tower shoot  and some of the best shooting grounds in the United States."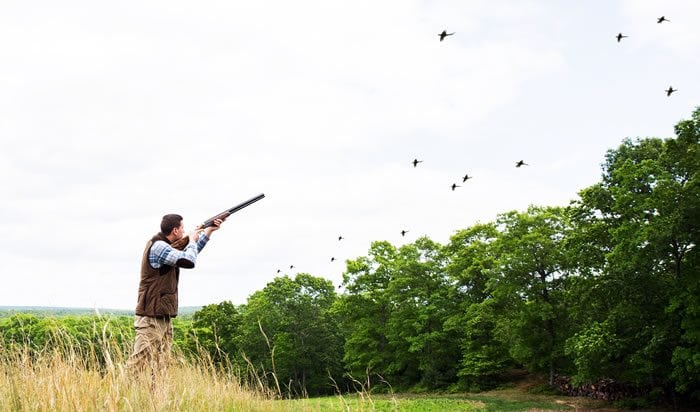 The Preserve at Boulder Hills
87 Kingstown Road, Wyoming, RI 02898
Phone: (401) 539-GOLF (4653)
www.thepreserveri.com
---
Tall Timber Lodge
Located in the unspoiled wilderness of northern New Hampshire, the Tall Timber Lodge in many ways delivers the most rewarding grouse and woodcock hunting experiences in the country.  Ring-necked pheasant are stocked, too.  While the season is short (October through mid-November), the alder and poplar bogs of Pittsburg provide ideal cover for unrivaled shooting.
Upland Bird Hunting in Pittsburg, NH offers some of the finest grouse and woodcock hunting in northern New England.
This area is known for its excellent grouse and woodcock hunting and the stocking of ring-necked pheasant several weekends in October introduces a new facet of game bird hunting to the north country. Woodcock can usually be hunted with success from October through early November. The alder and poplar bogs of Pittsburg provide ideal cover for our resident woodcock and "flights" of migrating woodcock from Canada make for some exciting shooting as well.
From the Tall Timber website: "Perhaps the most popular and challenging of all the game birds is the ruffed grouse. Pittsburg's mixture of hardwood forests and softwood thickets make an ideal home for grouse. The forests are still actively managed for timber production, making many early growth timber areas so vital to the grouse's success.
"With so many miles of prime grouse cover, you can opt to hunt the proven hot spots or discover your own secret covers. Whether looking for advice on finding prime areas, or just taking a hearty bagged lunch out on the trail, Tall Timber provides an exciting bird hunting experience."
A rather well-heeled friend and I spent an unforgettable day at Tall Timber.  I note my friend's financial comfort level to explain how a FAMARS Rombo shotgun founds its way into my hands.  In other words, it was his.
It's not within the scope of this article to review the gun in all its splendor, but I'd be remiss if I didn't remark on the way it seemed to guide me through the challenges of hunting the ruffled grouse.  A day spent hunting at Tall Timber leaves one emotionally charged and absolutely ready for a retreat to one of the facilities' splendid log lodges.
Work or play?  At Tall Timber, the only answer to that question is YES!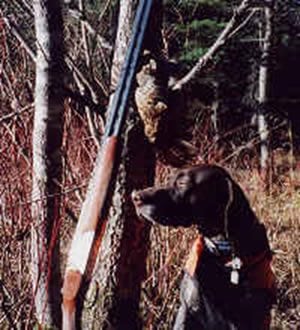 Tall Timber Lodge & Rainbow Grille
609 Beach Road, Pittsburg, New Hampshire 03592
Phone: (603) 538-6343
www.talltimberadventure.com
---
Weatherby's
Weatherby's bills itself as "one of the oldest and most famous sporting lodges in the country."  Fair enough.  But in my experience – and likely in yours – age alone is no guarantee of quality.  So with that caveat in mind, I ventured to the exotically named town of Grand Lake Stream, Maine, to test the claim – at least as far as grouse and woodcock hunting is concerned.
Weatherby's tells us that, "hunting wild game birds is one of our favorite activities. We specialize in wild ruffed grouse and migratory woodcock hunts. We do not hunt any raised birds. Our wild birds will challenge the best dogs around and our tight coverts will challenge the best shooters. We are not numbers oriented, but rather focus on the quality of the hunt, fair chase and good dog work. If all goes well, we get to eat a few birds in the dining room at dinner.
"Weatherby's sits on the edge of more than 1 million acres of forestland with hundreds of miles of gravel roads allowing access to some of the best Maine upland bird hunting in the east. Opportunities abound for hunting over dogs and coverts are suitable to both pointing and flushing breeds. Spend a day or a week chasing the king of all game birds in the grandeur of a downeast autumn."
How bucolic.  How romantic.
How true.
Weatherby's opportunities for high quality Maine woodcock hunting do indeed seem endless.  The landscapes are diverse, ranging from tree-covered hillsides to abandoned and overgrown farms and orchards.  In the company of a registered Maine Guide and two extraordinary dogs, I applied every bit of skill I've acquired over a lifetime of hunting to action that was, in a word, thrilling.
I should add that as a classic sporting camp, Weatherby's provides its guests with rustic accommodations, authentic home cooking, and service that always satisfies but never intrudes.
October 1 marks the start of grouse and woodcock season in Maine.  There may still be time to reserve your place at Weatherby's.  Don't hesitate.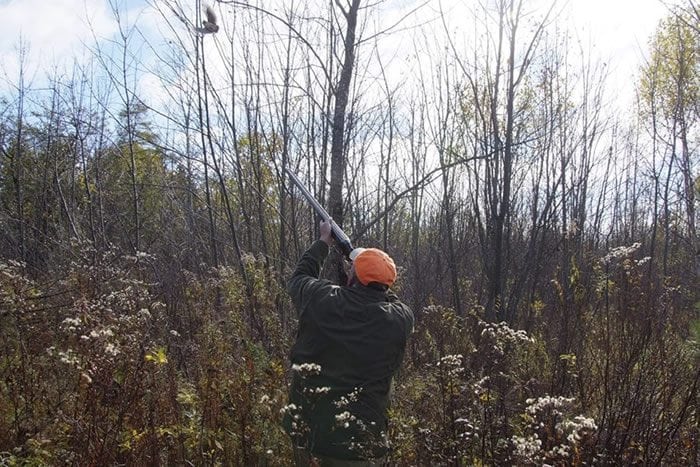 Weatherby's Resort
112 Milford Road, Grand Lake Stream, Maine 04668
Phone: (877) 796-5558
www.weatherbys.com
---
Addieville East Farm
Located in Mapleville, Rhode Island, Addieville East Farm encompasses over 900 acres of ideal upland bird habitat.  Twenty classic New England fields are complemented by a 14-stand sporting clay course and two trout ponds.  Steak and Clays is a summer social, shooting, dining fun event. Lodging is available, as are fly fishing and shotgunning courses and Robin Hollow Outfitters, a source for fine guns and hunting and shooting accessories.
I love the way the folks at Addieville East describe the bird hunting experience at their fine facility: "We bring a bit of England to Addieville East at our European driven shoots. We hold several shoots throughout the season. Arrive and enjoy a continental breakfast, meet your shooting partner and draw pegs. Then it is off to some warm up clays and off to your peg. Prepare to be amazed at the high flying pheasants and have lunch in the field and then back to those glorious birds once more. Return to the cabin for refreshments and talk about the great shots you made. A minimum of 300 pheasants will challenge a line of eight to twenty-four shooters."
Addieville East accommodates corporate and family events, too.
I was drawn to the scale of Addieville East – comforting in its conciseness yet never seeming to close in.  This is all about the hunt – and sometimes, the hunt is all we really need.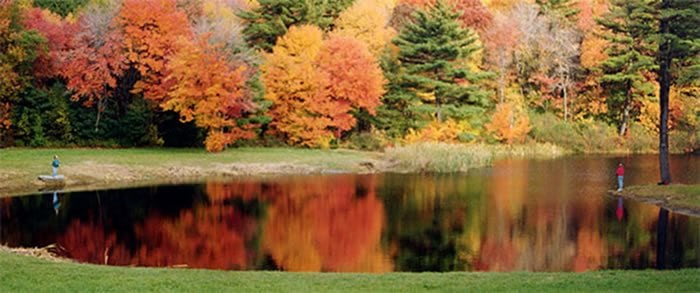 Addieville East Farm
200 Pheasant Drive, Mapleville, Rhode Island 02839
Phone: (401) 568-3185
www.addieville.com
---