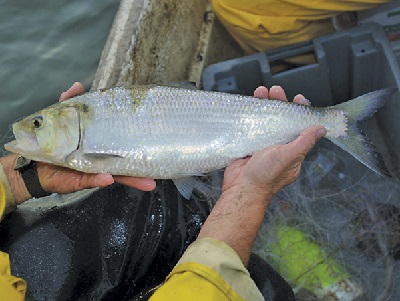 This year's shad run was a study in contrasts for Chesapeake Bay tributaries, as some saw the strongest spawning migrations in recent decades while others hit or approached record lows.
Scientists at the Virginia Institute of Marine Science were surprised by the unusual disparity in the three rivers they monitor, with the Rappahannock producing the strongest shad run since its monitoring began in 1998, while the runs at the James and York were among their worst.
"It is not uncommon to have some good high years, but usually that's seen among all three rivers at once," said Patrick McGrath, a VIMS marine scientist who works on the annual shad index. "This is really a first where one river is doing so drastically well compared with the others."
"That's the perplexing part," he added. "Why would one river do so well?"
The disparity wasn't limited to Virginia. The Potomac River, which neighbors the Rappahannock, also continued its strong recovery. It's home to one of the strongest remaining East Coast shad runs in recent decades, when most other rivers have been mired near record lows. Monitoring by the Potomac River Fisheries Commission showed that the river's shad run continued to increase this year.
In the Susquehanna River, which has had a series of poor years, only 6,992 shad passed over the Conowingo Dam near the mouth of the river, the worst performance since a multimillion-dollar fish lift went into operation in 1997, and well below the peak of 193,574 in 2001.
Josh Tryninewski, a fisheries biologist who oversees shad restoration for the Pennsylvania Fish and Boat Commission, said cool spring temperatures delayed the migration and, by the time shad started working their way upstream, river flows had increased, which often hurts the spawning run and fish passage performance.
Shad spend most of their lives in the ocean, but return to their native rivers to spawn. Historically, tens of millions thronged East Coast rivers, supporting fisheries hundreds of miles upstream. But overfishing, the construction of dams that blocked access to historic spawning grounds, pollution and other factors have reduced their numbers in recent decades to all-time lows.
To counter that trend, utilities and states in the Bay region have poured tens of millions of dollars into efforts to improve fish passage past dams and bolster populations with hatchery-reared fish.
This year, though, shad stocking hit its lowest level in recent history, with fewer than 9 million released in various Bay tributaries, primarily because of budget cuts. As recently as 2000, about 36 million hatchery-reared shad were stocked throughout the Bay watershed. This was the first year in more than two decades that none were placed in the James River.
Stocking in the Susquehanna was hurt by high flows, Tryninewski said. Biologists had hoped to stock more than 3 million this year, but frequent high water levels, which can be lethal to the larval fish, forced them to keep the fish in the hatchery longer than planned, where some died. As a result, just 2.74 million were stocked.
"It's a roll of the dice," he said. "We were holding them while waiting for river conditions to improve. But I'd rather hold onto them than just put them out if the river is up and hope for the best."
On the Nanticoke River, biologists released 360,000 shad this year, well below the record 1.4 million a year ago. "This was one of the lowest stockings, ever," said Johnny Moore, a fisheries biologist with the Delaware Department of Natural Resources and Environmental Control. "It was very disappointing, to say the least."
Although plenty of shad seemed to be in the river, Moore said the survival rate of the eggs was poor, and was likely the result of rapidly fluctuating water temperatures.
In Maryland, stocking efforts were close to their targets. The Maryland Department of Natural Resources placed 260,000 larvae and 75,000 larger juvenile shad in the Patapsco River, hitting their marks.
On the Choptank, biologists stocked 1.55 million larvae — below their goal of 2.75 million — and 460,000 early juveniles, which was higher than average.
"We didn't get as many larvae stocked as what we try to every year," said Chuck Stence of the DNR's anadromous fish program. "But we are toying with the idea of allocating more juvenile fish than larvae. Survival is so much better with juveniles."
By Karl Blankenship. Editor of the Bay Journal and executive director of Bay Journal Media. He has served as editor of the Bay Journal since its inception in 1991. 
The post Shad runs approach record highs in some rivers, lows in others appeared first on .