Nola.com reported this 1st: An angler fishing the Gulf of Mexico out of Venice Tuesday caught the 10th-largest yellowfin tuna ever brought to scales in Louisiana.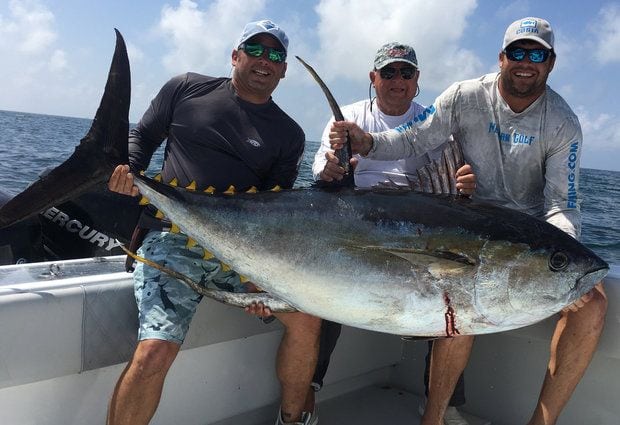 Wade Wells, a captain for Mexican Gulf Fishing Company, took 74-year-old Vic Wickman and some buddies east into 300-foot-deep water, and used cut bait to lure a strike from the 226-pound fish.
"We made one drift and tripled up," Wells said. "We thought it was just like an 80-pounder. The two others came right in, so we decided to chase that one because it was running a little bit. We got on top of it, and got it in."
The duration of the fight was only 45 to 60 minutes, Wells said. That was a tribute to Wickman's skill on the rod.
"You would normally have to fight a fish like that for well over an hour and a half," Wells said.
Once the fish was at boatside, the captain and deckhand each used a gaff and struggled to pull it aboard. Jubilation erupted when the task was completed, Wells said.
"As soon as it hit the deck, we knew it was the biggest fish we'd ever caught," Wells said. "Two weeks before, I caught a 192(-pounder), and it was way bigger than that."
Wells said his gear included an 8/0 Mustad Perfect Circle hook, 12 feet of Seaguar 100-pound-test fluorocarbon lead, 80-pound-test monofilament and 80-pound-test braided line.
In order to qualify for the record book, Wickman will have to fill out an application form and submit it to the Louisiana Outdoor Writers Association. If approved, Wickman's fish will knock a 224-pounder caught by Dennis Henry in 2005 from the top 10.
The state-record yellowfin was a 251-pounder caught by Elliot Sale in 2012.
By Todd Masson
The post Record-book yellowfin tuna caught by Venice angler appeared first on ODU Magazine-North America's #1 Digital Fishing Magazine.