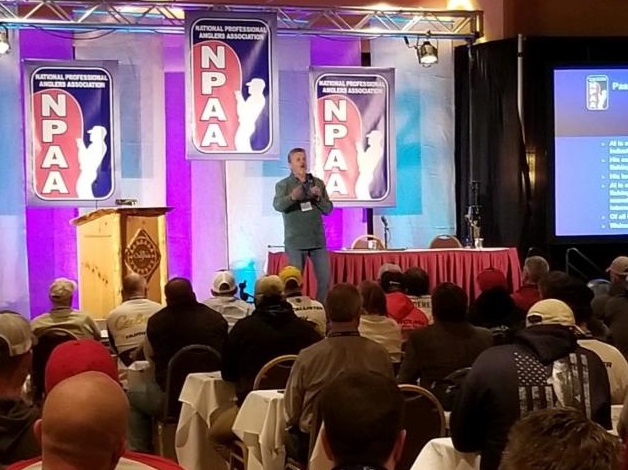 Professional Anglers to "Turn Ripples into Waves" at the NPAA Annual Conference
Professional Anglers to "Turn Ripples into Waves" at the NPAA Annual Conference 
Forestville, WI-Anyone interested in creating or advancing their career in the fishing industry should mark their calendar for Jan. 4th-6th, the dates the National Professional Anglers Association (NPAA) will hold its 2019 Annual Conference at The DoubleTree by Hilton Conference Center in southwest Minneapolis. "Since 2009, the NPAA…
NPAA Supporting Partner News:
Eyes in the Dark Aqua-Vu® debuts remarkable AutoClear Technology in latest generation HDi Underwater Cameras
Crosslake, MN  – "It was so murky down there, I could barely see my hand in front of my face," observed underwater explorer Kim Stricker.   Submersed in chilly, coffee-colored water, Stricker was recently filming…
FLIR Introduces Raymarine Element Series with Lifelike Sonar Imaging
WILSONVILLE, Ore.- FLIR Systems (Nasdaq: FLIR) today announced the Raymarine Element

, a new generation of advanced, combination sonar and GPS displays. Featuring the acclaimed Raymarine RealVision

3D and new HyperVision

sonar…
St. Croix Mojo Ice Rods Pack a Serious Punch
Park Falls, WI – Ice fishing rods have evolved much over the past couple decades. Gone are the wooden jig sticks with primitive line winders. Yes, thanks to the research and development to build better ice rods, even your average ice anglers are fishing with significantly…
Student Angler Federation Releases 2019 Master High School Schedules and NEW Advancement Opportunity Details!
PONCA CITY, OK – The Bass Federation's Student Angler Federation (SAF) announced today the 2019 High School Fishing schedule, including forty-two SAF High School Fishing State Championships, three SAF High School Fishing ChallengeOpen tournaments, 15 Bass Pro shops FLW…
Evinrude Announces Program Year 2018 Dealer of the Year Award Winners
STURTEVANT, Wis.- Evinrude announced today the recipients of their Program Year 2018 Dealer of the Year awards; recognizing the Evinrude dealer network in the U.S. and Canada for excellence in sales and support. Award categories are further broken down into district, region and national recipients. "Beyond the technological advances…
Mercury Marine releases 2018 Sustainability Report and video highlighting its commitment to environmental stewardship
FOND DU LAC, Wis. – Mercury Marine, the world leader in marine propulsion and technology has released its 2018 Sustainability Report and supporting  video highlighting the company's investment in protecting the environment, preserving energy, manufacturing world-class products, supporting our people and communities and creating a sustainable climate…
Raymarine Announces New Ice Fishing Kit
WILSONVILLE, ORE. – Wishing you could unleash the power of Raymarine sonar on ice? You aren't alone. Now, the Raymarine Ice Fishing Kit includes everything ice anglers require to do just that-whether chasing walleye and panfish on American hardwater or massive pike throughout frozen Scandinavia…
ST. CROIX ROD: New Apparel Program
Park Falls, WI  – "We believe each angler deserves the best fishing experience possible," says Director of Marketing Jesse Simpkins, "and for St. Croix to live up to the 'Best Rods on Earth' we also need to focus on every facet of our business, from our rods to our apparel."         Dealer…
NPAA Non-Profit Partner News:
2019 Women Ice Angler Project Focus on Empowerment and Facing Fears on the Big Gitchi-Gami-Lake Superior's Chequamegon Bay
Lake Superior's Chequamegon Bay (Bayfield, Wisc.) – The media event launched by Barb Carey five years ago, the Women Ice Angler Project (WIAP), shines the spotlight on women ice anglers throughout the ice belt. During several days on the ice, WIAP offers the sportfishing industry and WIAP sponsors media coverage highlighting strong female ice anglers. In 2019, from January 23-27,…
GreenHead Strategies becomes Wildlife Forever new Corporate Partner
– Wildlife Forever is proud to announce the partnership with GreenHead Strategies from Minnetonka, Minnesota as its latest Corporate Partner. "I think it is important to support Wildlife Forever and organizations out there on the front lines working to make a difference. Their approach to fish and wildlife conservation…
Statement: National Wildlife Federation Supports Updated Plan to Stop Asian Carp
Ann Arbor, MI –– Today, the U.S. Army Corps of Engineers released its final draft plan to keep Asian carp out of the Great Lakes. The draft chief's report of the Brandon Road Lock and Dam includes both structural and nonstructural measures including an engineered lock fitted with an electric barrier, a bubble barrier, an acoustic barrier, and a flushing lock to stop aquatic invasive…
New Wave of R3 Tools Inspire Angling
New Wave of R3 Tools Inspire Angling So, if today's youth spend over 40 hours a week on "screen time" and form lifestyle pursuits based on peer interactions… what innovative tools can R3 professionals use to shape the next generation's perception about angling? The logical answer is to become part of that screen time plus engage youth in peer-driven interaction about the rewards of angling. And those pathways are exactly the cornerstones of a new national program that's now offering…
Sportfishing Industry Association Appoints New Atlantic Fisheries Policy Director
Alexandria, VA –  The American Sportfishing Association(ASA) is pleased to announce that Michael Waine, most recently a Fisheries Management Analyst with NOAA Fisheries, has joined the ASA staff as Atlantic Fisheries Policy Director. Based in Morehead City, N.C., Waine will focus on fisheries policy…
FEEDBACK NEEDED FROM MEMBERS AND COACHES OF PROGRAMS SERVING HIGH SCHOOL-AGED ANGLERS
ALEXANDRIA, VA- The Recreational Boating & Fishing Foundation (RBFF), in cooperation with the Bass Anglers Sportsman Society (B.A.S.S.) and Fishing League Worldwide (FLW), is seeking former and current members, coaches, advisors, volunteers, and sponsors of high school fishing clubs and programs to participate in a nationwide survey. This survey…
TELL CONGRESS – PASS THESE IMPORTANT BILLS IN 2018
With the holiday season just ahead and Congress about to adjourn for the year, anglers have an opportunity to push four important pieces of legislation across the finish line. Tell your Senators and Representative that you support these bills and encourage them to support them as well. The Modern Fish Act (S.1520), Help for Wildlife Act (S.1514), Sportsmen's Act (S. 733) and Driftnet Modernization and Bycatch Reduction Act (S. 2773) have…
NPAA Member & Partner Articles:
ODU Magazine's November-December Fishing Edition Here
We made it by the skin of our frozen teeth. The next ODU Magazine is out. It is a November/December early winter fishing edition. LINK TO THIS EDITION OF ODU MAGAZINE >>>  https://www.odumagazine.com/Magazines/ODUNovAndDec2018Mag/ This edition of ODU Magazine is packed once again, starting with the Ice Zone, followed by open-water fishing articles, as well as hunting. 26 in all plus many great videos. Some Of What Is Covered: Bass under the ice. Bass in open water. Fall walleye review…
Panfish – Where To Fish First Ice 
By Chip Leer
Seasonal Solutions Panfish – Where To Fish First Ice By Chip Leer Early winter offers savvy ice anglers some of the hardwater season's best panfish fishing, for a variety of reasons. First, hungry panfish prowl predictable places that are often overlooked by other anglers. Plus, the fish are active for longer periods of time, more willing to chase baits, and eagerly swim farther to get a meal…
Doctor Sonar Newsletter
This Issue   Sonar Tip Humminbird Trail Tip Fun video New Devils Lake Map Doctor Sonar School January 2019 20% off all DVDs and 10% off Doctor sonar maps one week sale   Visit Our Website     Newsletter Discount 20% off DVDs discount code DVD20 10% off maps discount code MAP10   This discount is good…
The post NPAA NewsBLAST December 2018 appeared first on .