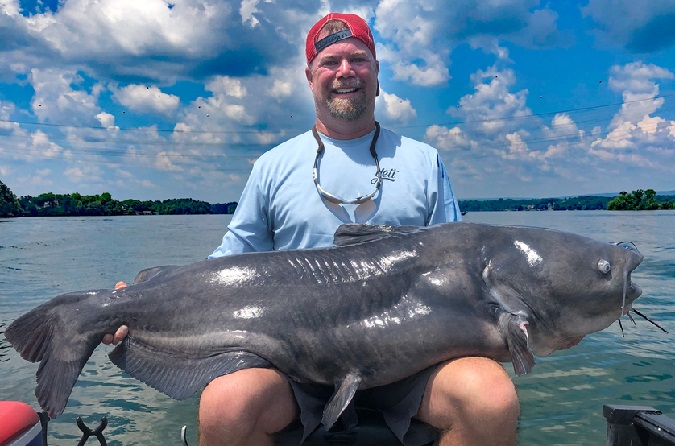 Matt Schulte had been in the heat of battle for about ten minutes when he looked over at me in awe and said, "This is a different class of fish."
Welcome to the Tennessee River, home of the giants. Chickamauga has become well-known across the nation as a big bass factory, attracting bass fishermen and tournaments from far and wide. That has happened in the last 20 years following an intensive management effort by the Tennessee Wildlife Resources Agency.
What many anglers don't realize, however, is that the Tennessee River has also long been a "catfish factory." The fertile river naturally produces huge numbers of catfish, especially blue catfish, including some monsters. When they are skiing, swimming or otherwise frolicking in the lake, most people have absolutely no idea there are catfish weighing as much as 100 pounds swimming around beneath them.
Schulte knew such fish existed but probably never envisioned he would hook one. Schulte, from Denver, Colorado, was in Chattanooga visiting his uncle, Larry Miller. Fishing with Scenic City Fishing Charters, the pair had caught several catfish in the 10-pound class when just after 11 a.m. Schulte felt the telltale "thump" of a catfish inhaling the bluegill head on his hook. He knew it was bigger than anything he had hooked so far, but as the battle dragged on with the huge fishing stripping drag off his fishing reel time-after-time, he realized he had hooked a true river monster.
The time it takes to subdue a monster catfish is usually in direct proportion to the size of the fishing tackle. Schulte was using a medium heavy spinning rod and reel spooled with 50-pound-test braided line.
"Depending on the size of this fish, 30 or 40 minutes isn't unusual," I told Schulte. "You might as well just settle in." Continue reading – https://newschannel9.com/sports/outdoors/colorado-angler-catches-fish-of-a-lifetime-in-chattanooga
The post News 9 – Colorado angler catches fish of a lifetime in Chattanooga appeared first on OutDoors Unlimited Media and Magazine.