Famars Rombo Brings Four Bores to Bear at Any One Time
By Tom Keer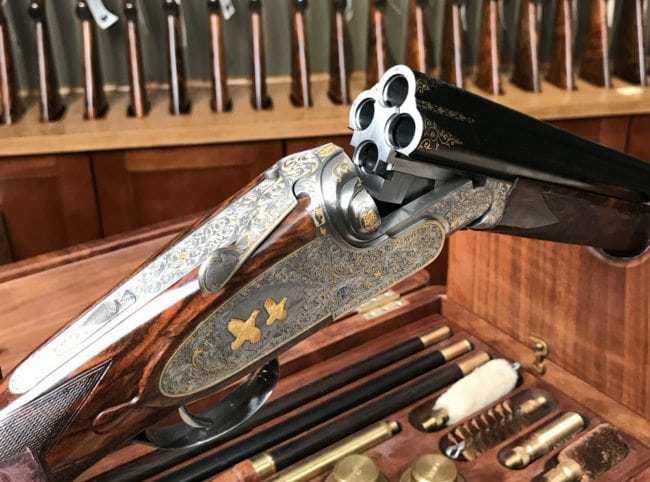 Four of a Kind – Famars Rombo
The Famars Rombo features four 28-gauge or .410 barrels: two choked full, one improved cylinder, and one modified.
Every now and then gun collectors, shooters, and hunters get an itch for a new shotgun that is difficult to scratch. They visit gun shops and shows, search online, talk with friends, and speak with gun experts. Most of the time these searches bear fruit in the form of high-quality collectables and commissioned custom guns. Occasionally even those efforts fail, and when they do a bespoke gun is the answer. Not just any bespoke gun will satisfy the discerning palate, but a make and model so entirely unique that it will turn everyone's heads.
Designers of custom shotguns usually begin with action, gauge, and barrel configurations. Standard options included both single and double barrels, with the latter choice falling in the realm of side-by-sides or over/unders. Others may consider a Triplet, which is also known by its Germanic name of Drilling. But if you really want to up the ante, there is a four-barrel shotgun which is also known by a Germanic name: Vierling.
Four-barrel shotguns are uncommon, but not so much as one might think. In fact, they've been around for quite a while. If you're ever near the Bass Pro Shops in Springfield, Missouri, swing by the NRA Museum. On display is a four-barrel Lancaster .440 bore, or 28 gauge, that was built in the mid-19th century by the legendary British barrel maker turned gunmaker Charles Lancaster. Lancaster stacked two barrels on top of two barrels, so you've either got two side-by-sides or two over/unders. Take your pick.
Over the years many Belgian, French, and German manufacturers have built Vierlings, with some chambers holding shotshells and others carrying bullets. Heck, in 2016 Winchester launched their own Vierling. It's different from the classic scrolling, exquisite fit and finish, and gorgeous stocks found on a bespoke gun, mind you. The Liberator series is a down-and-dirty model designed for self-protection.
But it's 2017, and that means if you're looking for a bespoke shotgun then you might consider a trip to Rhode Island. There, at the Famars Shooting Grounds located at The Preserve at Boulder Hill, you can see the Rombo by Famars di Abbiatico & Salvinelli.
Paul Mihailides, the new owner of Famars USA, worked to create a masterpiece. Rather than simply stack barrels, Mihailides opted for a classic diamond shape. Form follows function, and the diamond shape lends itself to a lower profile and better handling. The resulting fit and finish is impeccable, as well.
With so much fluid steel comes weight, and to keep those numbers in check, Mihailides opted for smaller gauges. His Rombo is designed in either a 28 gauge or a .410 bore. The top and bottom barrels are choked full, while the right and left barrels are a corresponding improved cylinder/modified. Shooting sequence follows the choke constrictions, with the right barrel (improved) shooting first, followed by the left barrel (modified), followed by the top barrel (full), and ending with the bottom barrel (full). One would think that the 28-inch, chrome-lined, cold-blued barrels, matched with an elaborate Anson & Deeley sidelock, is heavy to carry, but weighing in at 7½ pounds, it's the same weight as an average 12 gauge.
Famars bespoke shotguns are made to order and take between 12 and 18 months to complete. Each Famars bespoke shotgun is made with more than 2,200 man hours—more with the Rombo.
The owner of this particular Rombo favored the Sabatti deep-relief engraved scroll, complete with a game scene with gold accents. Grade 5 Turkish walnut delivered on a straight English stock with a 14 7/8-inch length-of-pull completed the classic design. Although destined for a collection, this $150,000 shotgun would be at home in a bobwhite quail field or an alder run for woodcock.
To see many fine Famars shotguns, visit the Famars USA Shooting Grounds at The Preserve at Boulder Hills in Rhode Island. To see the current collection or to create your own bespoke shotgun, visit famars.com, or contact Alec Mihailides at [email protected].