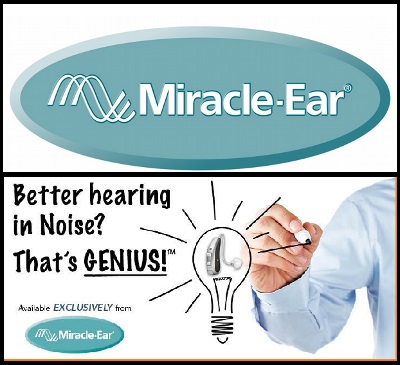 They've proven themselves proficient at connecting with big bass and now Bassmaster Elite Series pros Alton Jones Sr. and Alton Jones Jr. will leverage their national exposure to promote a company strongly committed to connecting individuals. To this end, Minneapolis-based Miracle-Ear, providers of innovative hearing solutions, recently announced its sponsorship agreement with the father and son from Lorena, Texas.
For over sixty-five years, Miracle-Ear's highly-trained hearing instrument specialists have worked with customers to find comfortable and discreet hearing solutions. Vice President of Marketing, Michael Stanfield said that each hearing aid carries the company's brand promise:
Miracle-Ear creates a hearing experience that enables you to realize the full potential of your passions, relationships and life.
"We're about connecting people; that's what hearing aids do," Stanfield said. "Often, those with hearing loss can become isolated. But when we connect people with their passions and the important people in their life, it allows the individual to reach their fullest potential."
The Joneses have certainly excelled in their competitive passion. Alton Sr. has amassed 51 top-10 finishes, including six victories, with over $2.5 million in career winnings. He has made 17 Bassmaster Classic appearances, including his 2008 win.
Alton Jr. is coming off the biggest year of his career, having earned his first Bassmaster Classic berth by winning the Bassmaster Central Open on the Red River. By finishing second in the 2016 Central Division points, the 24-year-old angler also qualified for the 2017 Bassmaster Elite Series.
Heinz Ruch, CEO and President of Miracle-Ear, said such professional achievements, bolstered by personal interests in advancing the Miracle-Ear message, made partnering with these accomplished anglers a good fit. Alton Sr. had a prior relationship with the company through his work with the Miracle-Ear Foundation, which has donated nearly 13,000 hearing aids to more than 7,500 individuals nationwide since 1990. Adding Alton Jr.'s link to a younger market further strengthens the relationship.
"Miracle-Ear is the leader in our industry and we are excited to work with leaders in their fields as well," Ruch said. "Connecting fathers and sons is something we do every day; and because fishing is a very family-oriented sport, we believe this extends Miracle-Ear's commitment to connection."
That message resonates strongly with Alton Sr. who recalls how his own parents' hearing loss gradually eroded the relationship he had long enjoyed. Conversational frustration eventually minimized communication until Miracle-Ear entered the picture.
"I'm excited to be associated with Miracle-Ear because this is a company that changes lives; and I saw that firsthand even before they were a sponsor," Alton Sr. said. "Hearing loss can create a barrier to communication between generations, but I was able to see that barrier come down when my parents were fitted with Miracle-Ear hearing aids. That meant the world to me because it changed their life and greatly improved my commmunication with my parents."
Inspired by this impact, Alton Sr. also underwent an exam and found he had mild hearing loss. At age 53, he was fitted with hearing aids — a decision he made as much for his loved ones, as for himself.
"I decided to not let the notion of hearing loss create a communication gap between me, my kids and my whole family," he said.
Alton Jr. agrees and notes that his family's experience with hearing loss has given him a greater appreciation for conversing with his elders. As he puts it, hearing aids can alleviate generational communication issues.
"When my grandparents got their Miracle-Ear hearing aids, it changed how we communicated; we can have conversations again," he said. "Thanks to Miracle-Ear I'll never have to go through that with my dad.
"Some of my favorite fishing insights come from the older guys who might sit in a tackle store all day and tell fishing stories. That's where some of your best information can be found and Miracle-Ear products can definitely bridge that gap."
Alton Jr. also notes that, because most adults will experience hearing loss at some point, it's never too soon to prepare for that eventuality. Conveying this truth will be a key message point for him and his father.
"We have a chance to use a non-traditional method to help promote Miracle-Ear products to a new audience that might not learn about them through the more common advertising venues," Alton Sr. said. "Fishing is one of those special moments between family members when they're focused on a common passion.
"My relationships with my son (and daughters) have grown the strongest on a bass boat. To me, that makes the perfect blend between fishing and hearing."
During the 2017 Bassmaster Elite Series season, Alton Jones Sr. and Jr. will represent Miracle-Ear through truck and boat wrap exposure, along with jersey and hat logos. Both anglers will promote the company's products, as well as the Miracle-Ear Foundation.
Jenni Hargraves, Vice President, Miracle Ear Foundation, concludes: "We're excited to continue our relationship with these partners who are passionate about providing the connective Gift of Sound to those in need."
About Miracle-Ear
A trusted resource for hearing solutions for over 65 years, Miracle-Ear uses state-of-the-art technology to remove the barriers of hearing loss. The Plymouth, MN-based company specializes in customizable hearing solutions that feature discreet, comfortable products designed to meet each individual's hearing loss needs. Free hearing tests are available at all of the company's 1,300 franchised locations across the U.S. Franchise opportunities are available for those interested in running their own Miracle-Ear business with the support of a nationwide industry leader. For more information, visit www.miracle-ear.com
About Miracle-Ear Foundation
The Miracle-Ear Foundation, a Minneapolis-based non-profit organization, supports underserved adults and children across the country with their hearing healthcare needs. The Miracle-Ear Foundation, working with Miracle-Ear centers across the country, has donated more than 6,500 hearing aids to over 4,100 individuals nationwide. For more information, visit http://www.miracle-earfoundation.org.
The post ALTON JONES AND ALTON JONES JR. ANNOUNCE MIRACLE-EAR SPONSORSHIP appeared first on ODU Magazine-North America's #1 Digital Fishing Magazine.