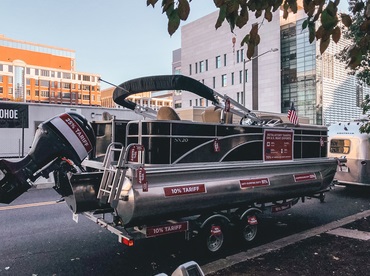 On Tuesday, Bill Yeargin, on behalf of Correct Craft and Sea Ark Boats, and NMMA's Nicole Vasilaros testified before the U.S. International Trade Commission (ITC) to urge the commissioners to find a negative determination of antidumping on common alloy aluminum sheet from China. Based on the hearing, NMMA is calling on all stakeholders that have experienced any aluminum sheet supply shortage, interruption, allocation, delay, or outright refusal to sell to reach out CONFIDENTIALLY and directly to their trade counsel, Jeff Grimson at (202) 688-3610 or [email protected] by no later than Wednesday, November 7, 2018. Read More
---
On Tuesday, Bill Yeargin, on behalf of Correct Craft and Sea Ark Boats, and NMMA's Nicole Vasilaros testified before the U.S. International Trade Commission (ITC) to urge the commissioners to find a negative determination of antidumping on common alloy aluminum sheet from China. Based on the hearing, NMMA is calling on all stakeholders that have experienced any aluminum sheet supply shortage, interruption, allocation, delay, or outright refusal to sell to reach out CONFIDENTIALLY and directly to their trade counsel, Jeff Grimson at (202) 688-3610 or [email protected] by no later than Wednesday, November 7, 2018.
The commissioners' questions during the hearing show that building the record to demonstrate instances of domestic price increases and supply shortages is critical. Sharing your stories will help NMMA show the ITC that the domestic aluminum industry is already strained and does not need these additional duty protections. All evidence of supply constraints is completely confidential and will NOT be shared with domestic mills.
The results of this case could alter aluminum pricing and availability for decades to come. Contact NMMA's trade counsel, Jeff Grimson at (202) 688-3610 or [email protected] to share your experience and help ensure the industry receives a favorable decision.
For more information, please contact NMMA Senior Vice President of Government Relations and Legal Affairs, Nicole Vasilaros at [email protected] or NMMA Director of Federal Affairs, Lance West at [email protected]
Photo caption: Pontoon boat outside of the U.S. International Trade Commission with tags identifying materials and parts that have been hit by a tariff.
The post NMMA Requests Industry's Input On Aluminum Sheet Investigation appeared first on .