John McEnroe sends a message to Boston fans.
Lifelong New York Knicks and Rangers fan John McEnroe stepped into rivals' territory—Boston's TD Garden—to launch Laver Cup 2020.
On the 40th anniversary of McEnroe reaching the No.1 singles ranking for the first time back on March 3rd, 1980, the Hall of Famer met with Boston Mayor Martin J. Walsh—and sent a message to Boston fans: We need your support.
More: Kyrgios Slams Mexican Fans
Team World captain McEnroe has seen his squad fall to reigning champion Team Europe in all three prior editions of the Laver Cup. The former world No. 1 in singles and doubles is hoping to flip the script in Boston for the 2020 Laver Cup, set for September 25-27th.
"I can't wait to bring the Laver Cup event and tennis, which there hasn't been a lot of tennis in this area for quite a while, to this new beautiful stadum the old Boston Garden," McEnroe said. "I mean this has got so much history it's going to be exciting. I've watched thousands of times when there's events played here over the years and I mostly had to watch from the losing end.
"But now it would be nice to be part of a winning team here… I think there's gonna be unbelievable energy, which I think is gonna propel us hopefully and give us the extra gear we need to win this once and for all. We've been so close if we get the type of support that I hope we can get, I think that can put us over the top—at least that's my plan right now."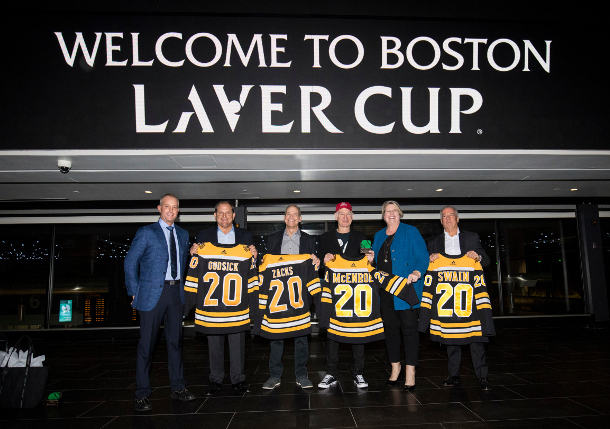 Photo credit: Laver Cup
Tickets for the fourth edition of the unique team competition go on sale Friday, March 6th at 10 am Eastern time via Ticketmaster.
Having watched both his Knicks and Rangers fall to Boston's teams in the past, McEnroe hopes the home side can help push Team World across the finish line for the first time in Laver Cup history.
"Boston fans are great sports fans; they back their team as well or better than any city in the country. So I hope and I believe they'll bring that type of energy to the event when we play it," McEnroe said. "I have no doubt that could be the difference. Let's face it: we all watch a lot of sporting events and that shot of the arm, that adrenaline rush, there's nothing better than that when you have crowds going crazy.
"I was at Madison Square Garden last night. We [Knicks] have one of the worst records in the NBA at the moment yet the energy was unbelievable and we actually pulled a great win against Houston. I'm hopeful that's the type of energy that we bring to this event."
McEnroe took time out to shoot some hoops with Celtics star and avid tennis player Gordon Hayward.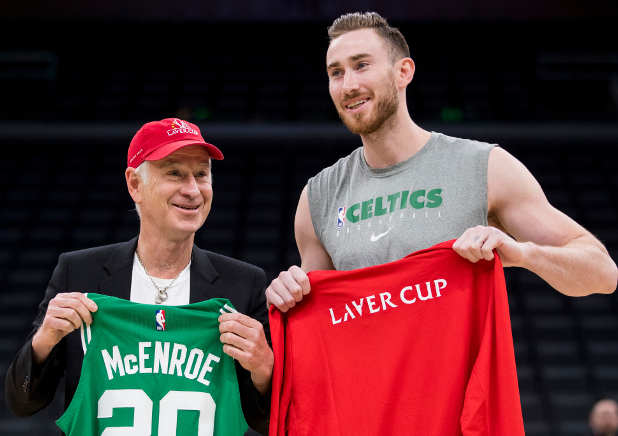 Photo credit: Laver Cup
Asked about Knicks super fan, director Spike Lee, getting into a tiff with Madison Square Garden staff after he was barred from using the employee entrance to enter MSG, McEnroe said the entire incident makes no sense to him.
"I don't go in through that entrance," McEnroe said. "I take every day as a positive step. Spike is one of the greatest Knick fans in the history of the New York Knickerbockers. So I was amazed to see that was even happening. I have no idea why that happened. It made no sense to me obviously and I don't think it made a lot of sense to anyone."
Photo credit: Laver Cup