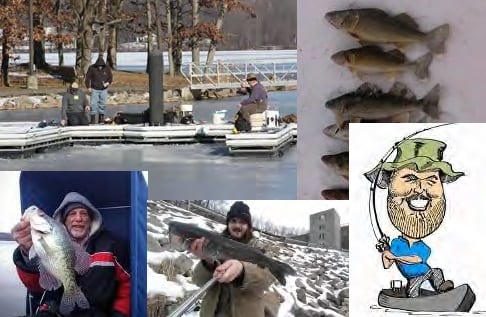 NW PA Fishing Report: The third week of January, and so far this has been an On-n-Off winter. At the present time, there is no truly safe ice cover on area lakes – certainly nothing I would consider walking onto. The Allegheny River and French Creek remain extremely high, although receding…but with more rain com-ing. Erie tributary stream levels have settled down, and with reports of a fresh run of steelhead having moved in during high water so that is where most fishing action will take place in coming days. Of course if you choose to drop a line into small headwater streams, you might enjoy the success that Jeff Knapp did this week with a beautiful wild brown trout!
Link to the full report – http://blackwolfecommunications.com/nw-pa-fishing-report/download-fishing-reports/46-fishing-report-1-18-17
The NW PA Fishing Report provides timely angling information for Crawford, Erie, Mercer and Venango Counties – covering all species and all waters open to the public. The fishing comments and photos are offered by regional tackle shops and area anglers, compiled and published twice a month. The NW PA Fishing Report is based on experiences, obser-vations and opinions of individual contributors; information sources are considered relia-ble but comments are not independently verified. In providing information or pictures, you are agreeing to your comments being edited, and posted to websites and distributed electronically.
The NW PA Fishing Report is brought to you by:
Pennsylvania' Great Lakes Region (www.PaGreatLakes.com)
Black Knight Industries, Oil City (www.GammaFishing.com)
Wiegel Brothers Marine, Franklin (www.wiegelbrothersmarine.com)
The post Jan 18th issue of NW PA Fishing Report appeared first on ODU Magazine-North America's #1 Digital Fishing Magazine.