Twitter/DeerHunting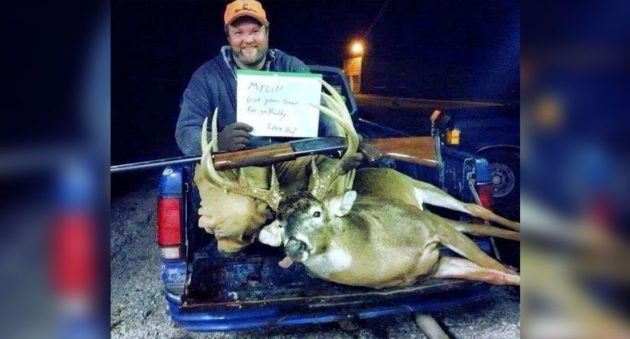 This is what hunting's all about.
Two years ago, a very powerful image circulated Twitter. It showed a man holding a piece of paper in the back of a truck with a big buck.
While this might not sound like anything special, what was written on the piece of paper will strike a heartstring.
See the emotional photo and read the note below:
This man lost his son and was able to shoot the deer his son was after before he passed away. pic.twitter.com/2raeDWAXLI

— Deer Hunting (@Deerhuntingprob) November 30, 2016
The picture is a little difficult to read, but it states:
"Mylin, got your deer for you buddy. Love Dad"
The depth of emotion that was rushing through this father while hunting this buck had to be unbelievable.
After researching the internet and trying various searches, I couldn't find any more details on the story. I will post an update if I hear anything.
NEXT: EVA SHOCKEY FLAWLESSLY DEFLECTS REPULSIVE HATE ON FACEBOOK
WATCH
The post In Loving Memory, Dad Tags the Buck His Son Was Hunting appeared first on Wide Open Spaces.