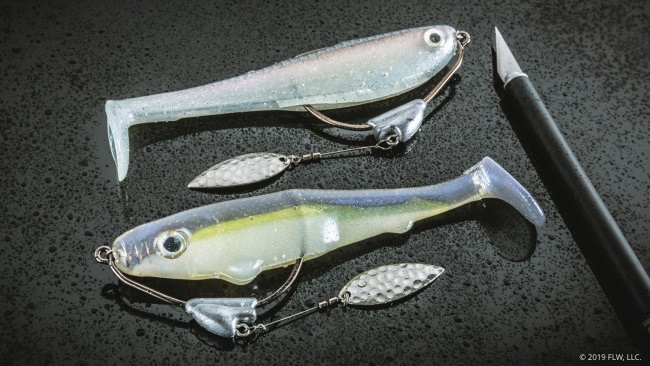 Pro bass anglers know all about small tweaks to optimize bait performance and hook-up ratios. But when it comes to hollow-body swimbaits, there isn't much in the way of unique tweaks that might differentiate the way anglers rig them. In most cases, it comes down to hook choice and bait selection. Grip and rip.
That's not necessarily the case for Buddy Gross, a four-year FLW Tour pro with two Tour wins to his name. Gross' most recent win came at Lake Toho at the Tour's second top of the 2019 season. He threw two baits all tournament long, pulling 19 of the 20 fish he weighed in from one spot with those two baits: a 1/2-ounce homemade white swim jig with a natural light-colored 4-inch Scottboro Tackle Co. Swimbait and the same swimbait in 5- and 6-inch varieties rigged on an 8/0 Owner Beast Flashy Swimmer 3/8-ounce belly-weighted hook.
It's the Scottsboro Swimbait combined with the Flashy Swimmer we're going to dissect here, because Gross himself did a little dissection to optimize its performance at Toho, and it's a tweak he's been doing for years.
One small tweak for a giant hook-up ratio boost
Gross has been fishing hollow-body swimbaits for a long time, and for most of that time, he's also cut the belly of those swimbaits to allow for better hook penetration. It's a simple concept a lot of anglers either don't think about or wouldn't consider if they did think about it, due to durability concerns.
For Gross, the hook-up is all that matters.
"I sacrifice the bait for the hook-up," he says. "I don't really do it with any other soft bait. It's a penetration deal. I just try to optimize my chances to get a hook in them more than anything."
The only time Gross opts not to perform hollow-body swimbait surgery?
"When I'm practicing and I don't want to hook them as much."
As soft as most hollow swimbaits can be, cutting the belly to allow the hook to protrude more on the hookset can limit the durability and longevity of each bait. When it matters most, though, hooking the fish and keeping it pinned is what it's all about. Continue reading at the FLW.
Related
FLW – How to Work in Fishing, by Brian Latimer
FLW Highlight: 6 Rules for Fishing Safely in a Kayak
LAWYER WINS FLW TOUR AT GRAND LAKE PRESENTED BY MERCURY MARINE
The post FLW Fishing – How Buddy Rigs a Hollow Swimbait appeared first on OutDoors Unlimited Media and Magazine.