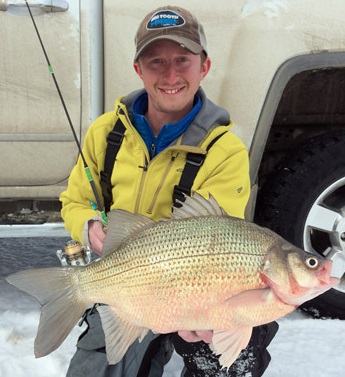 Story first report by devilslakend.com. After one year of careful planning and a commitment to his goal, Blake LaFleur finally caught THE fish he was targeting.  The magic occurred the day before Valentine's Day. He caught what will likely be the new IGFA line-class world record white bass on Devils Lake.
Located in north-central North Dakota, Devils Lake is known for huge white bass and great walleye, perch and pike fishing.  However, to finally land the 4-plus pound monster on two-pound test line and meet all the requirements of the International Game Fish Association, LaFleur studied the rules (15 pages of specific requirements), contacted the organization via phone and email and assembled the appropriate tackle.
Actually his quest began about six years ago when he caught a few white bass while chasing the lake's famed jumbo perch.  "Not many people catch bass under the ice, and after battling a few on light tackle, I became intrigued.  So did a few friends like Clayton and Kurt Davis from Belcourt, ND.  Together, we hunt to find them, and the tactics have evolved to the point where only the biggest bass are targeted."
Details of the fish:  18 ½ inches long with a 16 inch girth.  Two scales (recommended by IGFA) weighed the fish at 4.27 and 4.32 pounds.  The current world record is 3.50 pounds.  Both scales will go to IGFA with 50 feet of the line used.  The line was an Italian monofilament (Asso Micron Three) rated at 1.5-pounds, with a breaking strength of 1.6-pounds.  "I broke the first six knots I tried to tie," LaFleur said.  He used a Palomar knot.  A 4-pound fluorocarbon leader, approved by IGFA, completed the rig.
"These big bass go crazy at the hole, and to turn one and bring it up, the leader was necessary," he said.  "The six-inch hole was another problem.  When his head finally pointed up, he became wedged in the hole.  I plunged my hand into the ice-cold water all the way to my armpit and grabbed it."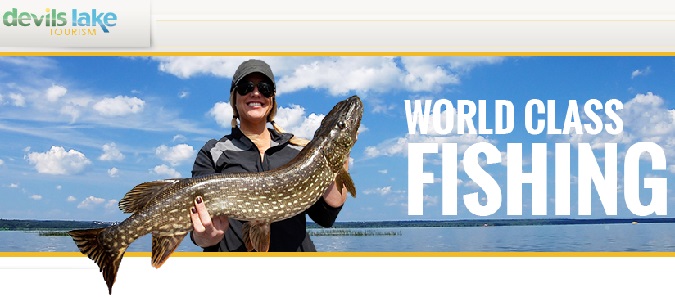 The lure:  a very shiny 1/16th ounce Northland Buckshot rattle spoon.  The rod was a Thorne Brothers Sweetheart customized perch rod, made to LaFleur's specifications.  It was 43 inches long, IGFA compliant, with a very fast and soft tip with the necessary forgiveness on the thread-like fishing line.
This season, the white bass crew did not find them anywhere near where they did in the past.  On the day that will be remembered forever, LaFleur said he moved 25 times, hunting by drilling hundreds of holes until stumbling into the school.  "I had never fished that spot before," he said.  It was in the main Devils Lake basin in 40-feet of water.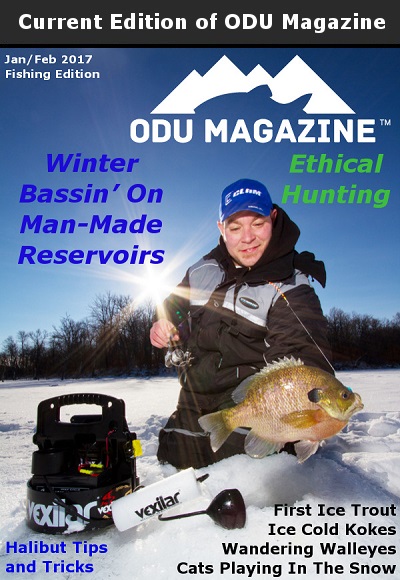 "This passion might seem odd to many, but we have fun and enjoy what we consider the finer side of fishing," he said. "White bass in winter act much like lake trout.  It's a cat and mouse game.  Lures must be kept close, but not so close to the fish that they ignore it, and not so far away they lose interest."
He added, "They traditionally feed on larvae in the lake bottom all winter, and to get bass to bite a Buckshot means annoying them so their instinctive, natural aggression takes over and they strike."  When the flasher screen shows 10 to 12 feet of bass, that's when action really picks up.  "We call this the 'mob' and when the rapidly moving school arrives, it is game-on," he said.
Playing cat and mouse with the jigging spoon, LaFleur fishes the top of the mob.  "These monster white bass bulldog for 20 seconds or more, screaming through the rest of the mob, and that triggers the entire school," he said.  He alternates the Buckshot with another favorite, the CLAM blade-spoon to find the optimum presentation.
When the sonar screen shows fish, the key is recognizing they are white bass, not perch.  Another factor is that every white bass yanked from their comfort zone 40 feet under will kill them.  "Catch and release is not an option," he said.  "What my friends and I do is limit the number of fish we catch and limit the number of trips.  That is our 'catch and release' system."
So far this winter, LaFleur has only fished five times for white bass.  His job with I.F. LaFleur and Sons, a coin-operated amusement business in North Dakota and northern Minnesota demands his full attention, as do two young LaFleurs, aged one and four.
The IGFA was founded in 1939.  Its mission statement reads, "The IGFA is a not-for-profit organization committed to the conservation of game fish and the promotion of responsible, ethical angling practices through science, education, rule making and record keeping."  Once submitted, LaFleur will wait several months before final certification of his world record.
For more information about Devils Lake water levels, ramps, fishing reports for walleye, pike, perch and white bass, community activities, fishing tournaments (the 41st Chamber Annual Walleye tournament is June 23-25), guides, lodging, dining, casino, resorts and much more, go to devilslakend.com, or call the Tourism office, 701-662-4903.
The post Devils Lake White Bass World Record Awaiting Confirmation appeared first on ODU Magazine-North America's #1 Digital Fishing Magazine.