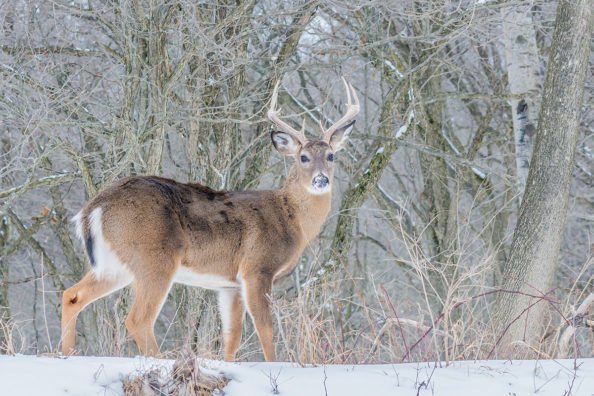 EHD, the deer disease known to affect whitetails, has reached high enough levels for North Dakota to offer license refunds.
The North Dakota Game and Fish Department has started the process of refunding over 9,000 deer hunters who purchased licenses after an epizootic hemorrhagic disease (EHD) outbreak in the western part of the state.
The Bismarck Tribune says that state wildlife officials began documenting EHD-caused deer deaths in August, and the problem persisted into October with more than 100 reports of dead deer received by the department in that short amount of time.
"Loss of deer to this disease appears to have extended into October and covers a large area of western North Dakota," said Bruce Stillings, big game supervisor for the department, as quoted by the Tribune.
The state Game and Fish Department is offering refunds to hunters with whitetail licenses in 12 hunting areas. They are located in southwestern North Dakota as well as the west central regions of the state. Specifically, the units are: 3D1, 3D2, 3E1, 3E2, 3F1, 3F2, 4A, 4B, 4C, 4D, 4E, and 4F.
EHD only affects the whitetail population, not mule deer, because of the biological makeup of the animals. An EHD outbreak occurs thanks to biting midges and gnats, which spread the viral disease from animal to animal.
On the bright side, North Dakota's deer herd (even in some large areas of EHD-affected hunting units) has avoided large scale death reports due to the outbreak. There are "moderate to significant" deer losses in the units mentioned in the refund operation, according to Stillings.
The whitetail deer population "has not been decimated, and in many areas a good harvest is still needed," Stillings said.
EHD outbreaks end only after a hard freeze kills off the infected insects. Fortunately, the current weather pattern in the affected area should produce colder-than-average temperatures, and bring case numbers significantly down. That should decrease deer mortality and bring the current outbreak to a likely end.
The most recent outbreak of a similar degree in the state was in 2011, when October deer deaths led to Game and Fish offering 13,000 hunters a refund on their license fees for 11 hunting units. Stillings said about 300 actually requested the refunds during that year's outbreak.
This year, the state made available 69,050 hunting licenses for whitetail and mule deer for 2020. A regular gun license costs $30, and North Dakota's state Wildlife Chief Jeb Williams said there shouldn't be a significant impact on the agency's budget should refunds be given out.
Deer hunting license holders with whitetail tags who wish to receive a refund must mail their tag, along with a note requesting a refund due to EHD, to the Game and Fish Department's Bismarck office no later than Nov. 5. Envelopes postmarked that day will be accepted. The agency's address is 100 N. Bismarck Expressway, Bismarck, ND 58501-5095.

NEXT: 5 UNCONVENTIONAL WAYS TO SHOOT A DEER
WATCH
The post Deer Disease Leads to License Refunds for More Than 9,000 North Dakota Hunters appeared first on Wide Open Spaces.