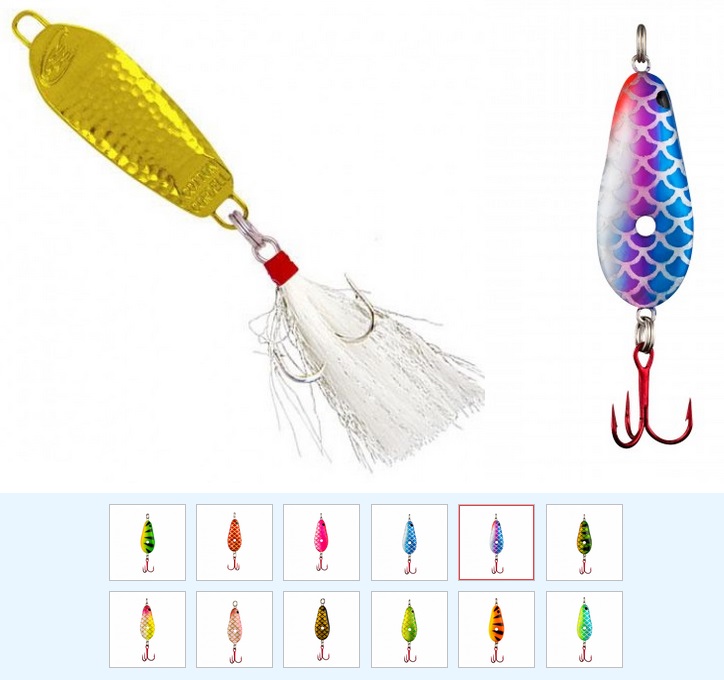 Spoons are among the best lures for catching crappie on deeper structure and cover in winter. When properly pumped, cast, trolled or fluttered, these flashy metal lures wiggle like baitfish with the bends. Crappie are attracted by this action, and big catches of big panfish result.
Size Selection
You'll catch more crappie if you stick to 1/32- to 1/2-ounce spoons, which are easier for small-mouthed crappie to inhale. But whether a 1/32-ounce spoon or a 1/2-ounce version is best depends on various factors.
For example, when crappie in clear water are holding really deep – say 25 feet down – I opt for a heavier spoon such as the 1/2-ounce Bomber Slab Spoon. This lure's weight gets it into the strike zone quicker, a big plus. For crappie on shallower features, I prefer a smaller spoon like the 1/4-ounce Cotton Cordell Little Mickey or a 1/16-ounce Lindy Glow Spoon. Crappie find these irresistible, and they're easier to hook on the smaller lures.
Choose the spoon that seems best for conditions you encounter.
Colors
Today's spoons are available in many hues. Which color is best? Most anglers prefer silver, white and other light colors in clear water, and go with gold, red, chartreuse or brighter colors in stained/muddy water.
Lindy Fishing Tackle's revolutionary Glow Spoon comes in 12 neon colors that help trigger strikes under different water conditions. Each has replaceable glow sticks to light up the plastic spoon, which radiates the light in the color of the spoon. The unique shape imparts a swimming action on the drop, while tungsten rattles help call in crappie from a distance.
Conventional Jigging
It's best to work jigging spoons like Cordell's Little Mickey and CC Spoon with a vertical presentation. Position your boat beside target structure, then lower the lure to the bottom. Take up slack, sweep your rod tip upward 1 to 3 feet, then slowly drop the rod tip, letting the spoon free-fall but keeping "in touch" with it at all times. Repeat, and be attentive for pick-ups as the lure falls.
Casting Spoons
Bomber Slab Spoons will nab crappie when cast and retrieved across horizontal structures such as submerged points or road beds. Let the lure sink, then reel up slack. Now rip the spoon off bottom by snapping the rod from a 10 o'clock position to 12 o'clock, then allow the spoon to flutter back down. Repeat this process until the lure is beside the boat. Set the hook at any unnatural bump or weightless feeling.
Spoon and Jig
If you feel hits but can't hook fish, fix the problem by tying a 6-inch leader of 4-pound-test line to the spoon hook then adding a small jig such as a 1/32-ounce Lindy Little Nipper to the tag end. The smaller offering darting behind the larger spoon nabs short strikers.
Long Poling
Many spoon fishermen use a fast-action spinning or spincasting rod, but a long jigging pole or fly rod works great, too. Lower the spoon and use flicks of the wrist to load the long pole, making the lure hop erratically.
Seeing is Believing
Savvy spoon fishermen use sensitive fish-finders that allow seeing a spoon as it is fished around crappie beneath the boat. With good sonar, you can place the lure right on a persnickety crappie's nose and work it with various actions. Knowing you're in the strike zone reduces frustration, encouraging you to try various tricks until one produces the desired result – a crappie in the boat.
By Keith Sutton and first published on Lurenet.com
The post Catching Winter Crappies on Spoons appeared first on OutDoors Unlimited Media and Magazine.