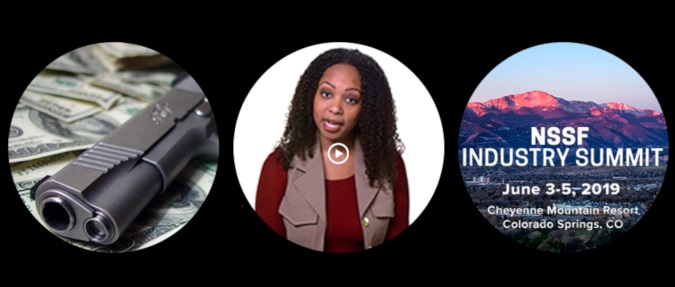 BANKS NOT SHOOTING STRAIGHT … NSSF's Larry Keane noted Citigroup's CEO was asked direct questions about whether its anti-gun discriminatory policies have cost shareholders earnings. His answer was less than forthcoming, even after public reports of Louisiana's decision to bar banks that discriminate against firearms businesses from competing for a $600 million road construction project. Read what happened when investors wanted answers.
NEW FIREARMS SAFETY VIDEOS … Project ChildSafe® and the Bureau of Justice Assistance (BJA) have released a new video series, "Many Paths to Firearm Safety," to help new and potential gun owners understand their firearms safety responsibilities. The videos portray three different gun owners and their stories of ownership, along with the steps they took to make sure they would handle and store their firearms safely when not in use.
INDUSTRY SUMMIT: CUSTOMER SERVICE … The firearms and ammo you're selling aren't remarkably different in price from the ammo and firearms in the store down the road, so customer service can win the day. Our 2019 Industry Summit attendees seeking to attract and retain clients are poised to learn a great deal about this new approach to customer service with Shep Hyken's seminar "The Convenience Revolution." Don't Miss your chance to attend, register today.
More Gun News From ODU Magazine >>> https://www.odumagazine.com/topics/guns/
More NSSF Coverage
NSSF's Larry Keane authored an op-ed lauding the Freedom Financing Act for pushing back against banks that discriminate against the lawful firearms industry.
The Louisiana House Commerce Committee is expected to meet and could consider House Bill 413 this week, legislation that would protect businesses in the firearms industry from blatant discrimination by those in the financial services sector.
The Texas Senate Finance Committee is scheduled to hold a public hearing next week on Senate Bill 457, legislation that would exempt firearms, ammunition and hunting supplies from sales tax during the last full weekend in August.
Alaska Gun and Ammo of Fairbanks, Alaska, shares a few lessons learned from a small-town gun shop and some innovative inventory strategies that help them compete more successfully.
Ann Arbor Arms' Range Manager Jonathan Mykala says that one of the best things about his range hosting NSSF's First Shots® classes is that the classes essentially sell themselves.
2019 SHOT Show® Product Spotlight: Consider stocking your shelves with Global Ordnance's revolutionary Canmunition, a waterproof, lightproof, oxygen-free environment that can keep your ammunition in tip-top shape for decades.
​​​​ATF Q&A: More great questions came in on our 24/7 NSSF Member Compliance Hotline last week. One question asks, "How should a licensee respond to a police officer's request for an original 4473?"
January 2019 U.S. import and export totals for several sporting arms, ammunition and optics categories are now available. Log in and select the Industry Research link to see a breakdown of the 2019 data compared to that of 2018.
SIG Sauer celebrated the opening of its Jacksonville, Arkansas, ammunition plant with a ribbon-cutting along with Gov. Hutchinson and U.S. Rep. French Hill. Gov. Asa Hutchinson attends SHOT Show annually to attract businesses to Arkansas.
Max Michel, shooting with the SIG Sauer Team, won the Open Division at the 2019 US Steel National Championships in Covington, Georgia, earlier this month.

Katie Zaun, 15, of North Dakota, won at the National Junior Olympic Shooting Championships in Colorado Springs a medal awarded in the Women's Three-Position Rifle (smallbore) event.

Olympians like two-time gold medalist Vincent Hancock and two-time bronze medalist Corry Cogdell-Unrein both started their careers in the Scholastic Clay Target Program, a youth target shooting initiative started by NSSF.
Exhibitor registration is open for SHOT Show's 2020 Industry Day at the Range. Vendors should act quickly, as space is limited. Various Range Day sponsorships are also available. Visit SHOTShowRangeDay.com for more information.
Employees of companies that support the NSSF at the highest level may apply for education aid through the NSSF's Patron Member Scholarship Program. For more information, contact Samantha Hughes, NSSF's Manager, Member Services.
The post Bullet Points – Weekly Firearms Industry Newsletter – 4-23-2019 appeared first on OutDoors Unlimited Media and Magazine.