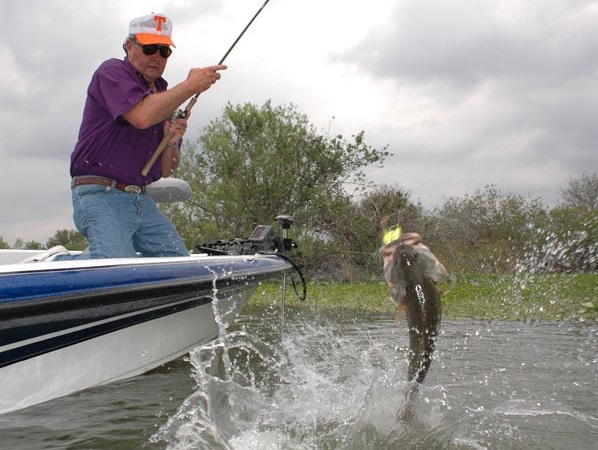 Follow Bill Dance in Bill Dance Outdoors on World Fishing Network, every Tuesday at 9:30 p.m. Bill Dance Outdoors is the longest-running and most-popular fishing show in America, and it just keeps getting better.
Dance lives near Memphis, Tennessee (Collierville). Not only is his home there, but his production studio is there as well. From both home and studio, he has built a fishing empire that includes: his TV show, Bill Dance Outdoors; numerous tackle endorsements; how-to seminars; his own magazine and even some bloopers from the show.
Donning his burnt orange and white Tennessee Volunteers cap, Dance has become a staple in fishing television, and the fishing community as a whole. With 41 years (and counting) on the small screen, he has been entertaining all experience levels of fishermen for generations and shows no signs of slowing down. Dance exudes likeability and it is this outgoing and friendly personality that makes Bill Dance Outdoors so captivating. Add in Dance's knack for landing huge fish and Bill Dance Outdoors is "can't miss" TV. Catch all the excitement of Bill Dance Outdoors, every Tuesday at 9:30 p.m.
Bill Dance Outdoors airs on World Fishing Network on Tuesdays at 9:30 p.m.
Check local listings or visit www.OutdoorChannel.com/ChannelFinder to find the network in your area.
About Outdoor Channel: Outdoor Channel has been taking viewers across America and around the world on unparalleled adventures since 1993. Dedicated to the outdoor lifestyle and conservation, the independent cable network is a division of Outdoor Sportsman Group and provides a complete spectrum of riveting hunting, fishing, shooting and adventure entertainment. Outdoor Channel is the largest outdoor TV footprint in the country and is available in more than 50 countries internationally. Outdoor Channel can be viewed in HD and is accessible by broadband and mobile platforms. For program times and other information, visit www.outdoorchannel.com. Follow us on Twitter, Instagram, Facebook and YouTube. #WhatGetsYouOutdoors. #MyOutdoorTV
The post Bill Dance Outdoors Continues Into Another Great Year appeared first on OutDoors Unlimited Media and Magazine.