YouTube: paul breeding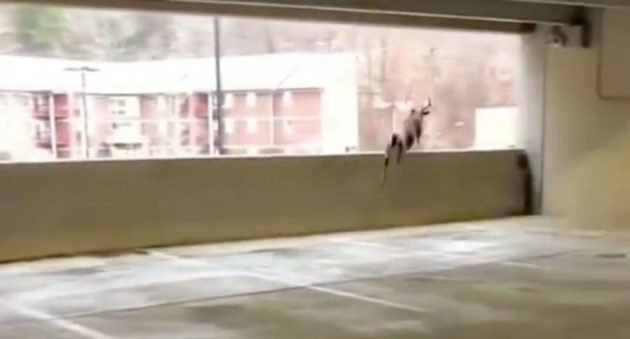 A nice eight-point buck was seen jumping from the second level of a parking garage. Do you think it survived?
While there are multiple versions of this video out there, the end result is the same: a nice eight-point buck can be seen trying to escape the second level of a parking garage by leaping over the concrete barrier.
In the video it can be seen that the number "2" is marked on one of the structural pylons of the building, denoting the second level of the parking area. Since the deer disappears over the railing, and a resounding thud can be heard, it couldn't avoid a fatal ending.
Here's a quick look at another deer unfortunately lost in the human world:
In the comment section, the man who posted this particular version of this video said that he captured moments of the deer right before it jumped.
It's likely police would've put it down ultimately, but there's no way to know for sure.
In any event, this is just another day in the life of a deer that got caught up in man's world. Unfortunately, this happens far too often, leaving populations depleted and hunters' tables empty.
Looking for a little more? Follow my webpage, or on Facebook and Twitter.
NEXT: BUCK JUMPS OFF A BRIDGE TO HIS DEATH IN UNFORTUNATE DEER SUICIDE
WATCH
The post 8-Point Jumps From Second Floor of Parking Garage appeared first on Wide Open Spaces.