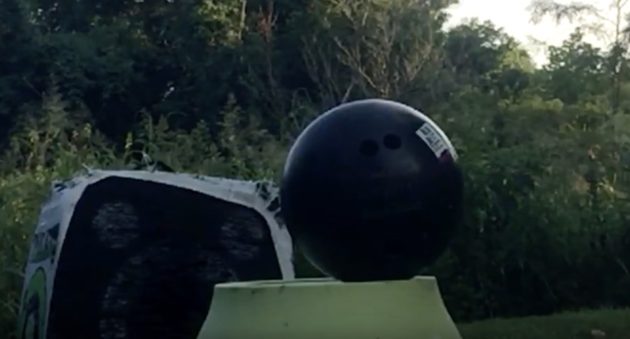 If you've ever wondered what happens when you shoot a bowling ball with a DirtNap broadhead from compound bow, you've come to the right place. 
Tim Kjellesvik (also known as The Thinking Woodsman) apparently spends a lot of time wondering about things like this as well. So, he decided to shoot a bowling ball with a DirtNap broadhead during the "Will It Kill It" segment on one of the recent episodes of his podcast.
Check out the video to see what the broadhead did to the bowling ball.
Pretty impressive right?
As you can see in the photo below, the arrow took a big chunk out of the bowling ball. While impact pretty severely bent the broadhead, the arrow survived the shot without any obvious damage.
This far from the only random thing Tim's shot with a bow: he also has some pretty cool videos of himself arrowing a propane tank, a fire extinguisher, a spinning circular saw, and an iPhone.
Lest you think that Tim only uses his bow for stunts like this on his backyard bow range, that is the same broadhead he used when he took his massive 19-point Missouri whitetail in the Ozarks last year.
Like what you see here? You can read more great hunting articles by John McAdams on his hunting blog. Follow him on Facebook The Big Game Hunting Blog or Twitter @TheBigGameHunt.
NEXT: YOUR BLOOD WILL BOIL WHEN YOU SEE HOW THESE ANTI-HUNTERS INTERFERED WITH A LEGAL DEER HUNT
The post What Happens When You Shoot a Bowling Ball with a Compound Bow? appeared first on Wide Open Spaces.