WatchMojo.TV/YouTube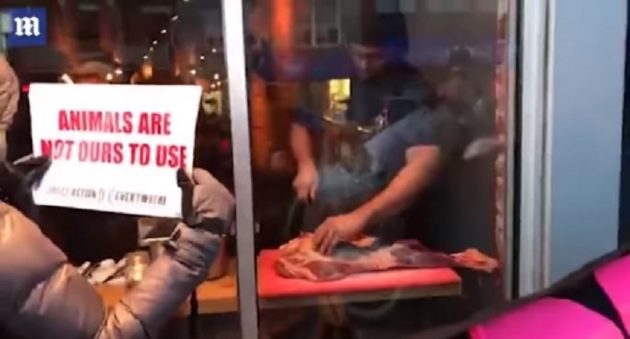 Chef and owner of Toronto's Antler Kitchen and Bar responds to protest by pulling out the venison.
Antler Kitchen and Bar, located in Toronto, Canada, offers great meals using local game and humanely raised livestock.
Animal rights activists were seemingly annoyed at sign the restaurant used back in December, which read "Venison is the New Kale."
So, they've made it a point to hold regular protests at the front door. In fact, March 23 marked the fourth time protesters had gathered out front. Each time they make an appearance, they wave signs and chant slogans like "Antler has blood on their hands."
This Friday night would be different, though. Antler's chef and owner, Michael Hunter, appeared at the front window of his restauran holding a raw leg of venison. He then began butchering the meat, to the obvious dismay of the activists on the other side of the glass.
Once finished, Hunter placed the cuts of meat in a pan and disappeared from view, only to return some 30 minutes later with a perfectly cooked steak on a simple white plate. He then sat in the front window and savored his culinary creation.
Hunter prides himself on being a hunter and forager, and has been very critical of factory farming in the past. He has also added a variety of vegan dishes to his menu, but that hasn't seemed to dissuade the group of staunch vegan disciples from parading out front.

Marni Ugar is the protest organizer, who stated she felt "really sad" and "shocked" after witnessing Hunter's response to the group. She plans to continue protesting outside of Antler, as the group returned March 31.
"We've been getting a lot of support, but also anger from a lot of people all over the world," Ugar said. "The owner of the restaurant is a hunter, so we certainly have the pro-gun Americans really angry at us, and anger because people get defensive if they think they are being attacked about eating animals."
News of the protest and Hunter's reaction have made international headlines, and many people are siding with Hunter.
We're happy to report that reservations are soaring.
Did you enjoy this post? CLICK HERE to view more article by Justin Hoffman. You can also check out his Photography Site Justin Hoffman Outdoors, as well as follow him on Facebook Justin Hoffman Outdoors, Instagram hoffmanoutdoors, Twitter @HoffmanOutdoors, or subscribe to his YouTube channel Justin Hoffman. 
NEXT: AND MARCH'S MORON OF THE MONTH AWARD GOES TO…
The post Video: Toronto Chef Butchers Deer Leg in Front of Animal Rights Activists appeared first on Wide Open Spaces.