The Fowl Life/Facebook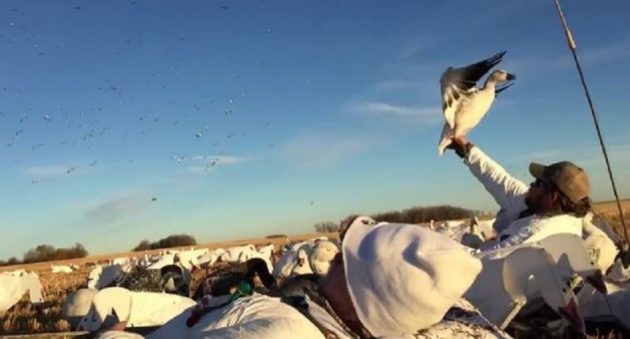 You know it's going to be a good goose day when…
Some days everything falls perfectly in place when out for a goose hunt: your spread is on point, blinds are beyond concealed, wind direction is optimum and large flocks of birds are in flight. These outings don't happen often, but when they do, a memorable hunt is certain to be on tap.
The following clip highlights one of those stellar days, but with an intriguing twist that you have to see to believe.
Here's JD "Quick Hands" Stanley working his magic:
Wait for it…Wait for it! Quick hands by JD Stanley.

Posted by The Fowl Life on Tuesday, November 7, 2017
What are the chances, right? That was a heck of a catch that undoubtedly put the cherry on top of a successful snow goose hunt.
If only it was always this easy!
Did you enjoy this post? CLICK HERE to view more article by Justin Hoffman. You can also check out his Photography Site Justin Hoffman Outdoors, as well as follow him on Facebook Justin Hoffman Outdoors, Instagram hoffmanoutdoors, Twitter @HoffmanOutdoors, or subscribe to his YouTube channel Justin Hoffman. 
NEXT: FLYING DUCK NAILED WITH A BOW IN AWESOME SLO-MO ACTION
The post Video: Hunter Miraculously Snags Snow Goose Out of Sky appeared first on Wide Open Spaces.