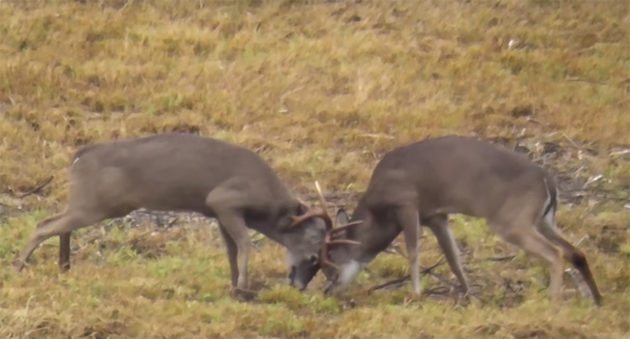 WATCH THE VIDEO NOW:
Against all odds, a third, even-bigger buck jumps into a whitetail deer fight. Watch what unfolds in this outstanding footage.
The rut is crazy; it's been said once and it'll be said many more times. This lucky guy out whitetail deer hunting got a nice surprise when watching two nice Texas bucks duel. Then, against all odds, another, even bigger, whitetail buck jumps in the fight.
Watch the unique fight unfold with this outstanding footage captured by our new Wide Open Spaces video contributor, TexasNative00.
This fight wasn't a sparring match by any means; the video literally shows a tine flying off one of the bucks. Once the double droptine buck joined the fight, it instantly went after the older and more mature whitetail.
This world-class whitetail fight is something most people never see. Thanks to this video, everyone can view a rare fight between giants.
Have you ever seen three whitetail deer fight?
NEXT: GRAPHIC: MULE DEER BUCKS IN ARIZONA FIGHT 'TIL THE DEATH
The post Two Bucks are Dueling During Rut When a Third Joins In appeared first on Wide Open Spaces.