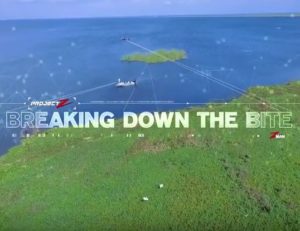 Building on the popularity and success of Z-Man's Project Z videos, the fourth season of the company's groundbreaking webisode series utilizes a combination of cutting edge action footage and on screen graphics to break down the intricate details of an individual fish catch by a Z-Man pro staff member.  Each Project Z: Breaking Down the Bite video delves into that angler's thought process to examine the elements and technical details that dovetail to help that angler successfully land a trophy bass, including locating a target area, bait selection, tackle, presentation, and technique.
In episode three of Season Four, which debuts today, Bassmaster Classic and Forrest Wood Cup Champion Luke Clausen plies a grass-laden Florida lake with the help of the versatile new Boar HogZ

creature bait.  The video highlights the subtle cues that Clausen uses to pinpoint specific fish-holding areas and details his rigging, presentation, and retrieves of the Boar HogZ in the various scenarios he encounters as he keys in on the big fish pattern.
The educational content, technical details, underwater and aerial video, action footage, and on screen graphics and animations of the Project Z: Breaking Down the Bite video series make for compelling content that will engage and educate anglers of all skill levels.  We at Z-Man welcome and appreciate you highlighting and sharing the launch of this video via your digital media channels using the links below.
Following today's launch, Z-Man will release the final episode of Project Z Season Four: Breaking Down the Bite on April 12.
About Project Z
An original web-based video series, Z-Man launched Project Z in 2014 to provide anglers with a glimpse inside the minds of the company's world class pro staff as they respond and adjust to changing fishing conditions using Z-Man's tournament proven ElaZtech® soft plastics and ChatterBait® bladed jigs.  
In the inaugural season of Project Z, Z-Man Pros Luke Clausen, David Walker and Stephen Browning competed against each other on Lake Guntersville, the site of the 2014 Bassmaster Classic, just months before that event.  
In Project Z Season Two: The Battles at Bienville, Team Z-Man headed to Florida's famed big bass factory Bienville Plantation, where they faced off against one another to complete a series of challenges, all with no pre-fishing opportunities and limited tackle.  
The third season of the series introduced the Project Z: Breaking Down the Bite concept, delving into the angler's thought processes and focusing on the many elements and technical details that are part of an individual fish catch.  The newly launched Season Four builds on Season Three, taking viewing to different locales and fisheries and educating them on productive techniques using Z-Man's latest and greatest ElaZtech soft plastics and terminal tackle. 
The post Season Four Episode 3 of Project Z Video Series is Live appeared first on ODU Magazine-North America's #1 Digital Fishing Magazine.