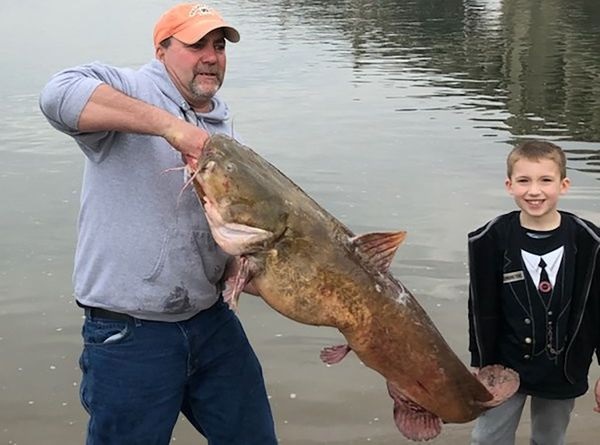 Penn Live reported first – A state-record flathead catfish was pulled from the Susquehanna River, near the Muddy Creek public access area in York County, on April 6. The catfish, weighing 50 pounds 7 ounces, was caught by Jeff Bonawitz, of East Lampeter Township, Lancaster County.
After taking some initial measurements in his boat, Bonawitz suspected the fish could be a contender for the state record, which had been previously set in 2006 when a 48-pound, 6-ounce flathead catfish was caught in Blue Marsh Spillway in Berks County.
Unable to immediately locate an operational certified scale on which to weigh the fish, Bonawitz kept the fish alive in an aerated container at his home until the following day. On April 7, the fish was officially weighed at Columbia Bait and Tackle located in Lancaster County, where it tipped the scales at 50 pounds, 7 ounces, unofficially setting a new state record for the species.
As is required for state record consideration, Bonawitz contacted Pennsylvania Fish and Boat Commission law enforcement officials and arranged for an in-person identification and examination of the fish. Waterways Conservation Officer Jeffrey Schmidt conducted the inspection and verified the weight.
A completed state record fish application, including color photographs, was reviewed by commission officials and confirmed.
State record fish are judged only by weight and must exceed the previous state record by at least 2 ounces.
After weighing the fish, Bonawitz and his nephew, Dylan, 8, released the flathead catfish alive back to the Susquehanna River beneath the Wrightsville Bridge.
"It was such an amazing fish," he said. "I thought the best thing to do was put it back so that maybe the next guy could catch it. I have a feeling this record may not last very long."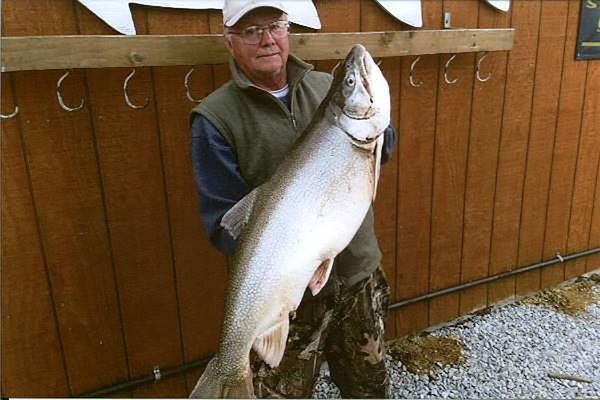 Another state record set this year came on May 11 for angler Keith Miller, 73, of Cranberry Township, Venango County. He joined friends with God's Grace Sport Fishing, a charter company, for a scouting trip for the upcoming summer fishing season on Lake Erie. Departing from the North East Marina in Erie County, Miller along with Captain Lane Brown and first mate Tom Thompson ventured 2-2.5 miles off shore, fishing in an area known as "The Mountain."
At around 4:30pm, the boat was trolling above 55 feet of water when a fish struck on an Orange Crush UV Copper colored Michigan Stinger spoon on 30-pound braided line.
"I could tell it was a lot bigger than the ones we'd been catching," recalled Miller, who said the crew had already boated several lake trout in the 14-pound range earlier that day. "At first it was like dead weight, but then the fish started taking quite a bit of line and put up a really great fight."
After a 15-minute tug of war, Miller said, the large lake trout appeared at the surface of the water and the crew immediately suspected it could be a state record contender.
Upon boating the fish, a preliminary weight taken using a handheld scale indicated the lake trout was approximately 31 pounds. If accurate, Miller's catch was heavier than the previous state record lake trout weight of 29-pounds, 4-ounces, also caught in Lake Erie in 2012 by an angler from Nazareth, Northampton County.
The crew immediately pulled its remaining lines from the water and headed back to shore. The fish was transported to Poor Richard's Bait and Tackle in Fairview, where a certified scale is located. At 6:40 p.m. a weigh-in was conducted under the supervision of Waterways Conservation Officer Matthew Visosky, where the lake trout tipped the scales at 31 pounds 13 ounces, exceeding the previous record by 2 pounds 9 ounces. Miller's fish measured 40-inches in length with a girth of 24.25-inches.
Read the entire article here and what the accompanying video as well at this link – https://www.pennlive.com/life/2019/06/river-monsters-and-other-biggest-fish-caught-in-pennsylvania.html
The post River monsters and other biggest fish caught in Pennsylvania appeared first on OutDoors Unlimited Media and Magazine.