Twitter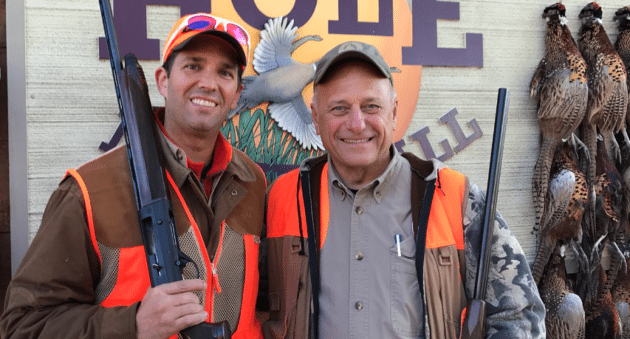 Donald Trump Jr. and Rep. Steve King (R-Iowa) went on a pheasant hunt and makes a post on Twitter, sparking outrage.
I love having a president who supports hunting, and better yet, having a "first-kid" who loves and pursues hunting so much. I have an admiration for Donald Trump, Jr. and how he loves the sport of the wild.
But as we all know, anyone with the last name Trump is going to be harassed by whatever means possible in today's world of online criticism.
Rep. Steve King and Donald Trump, Jr. went on a hunting trip in Iowa, successfully bagging several pheasants.
After their hunt, Rep. King made a tweet about his hunt with Trump Jr.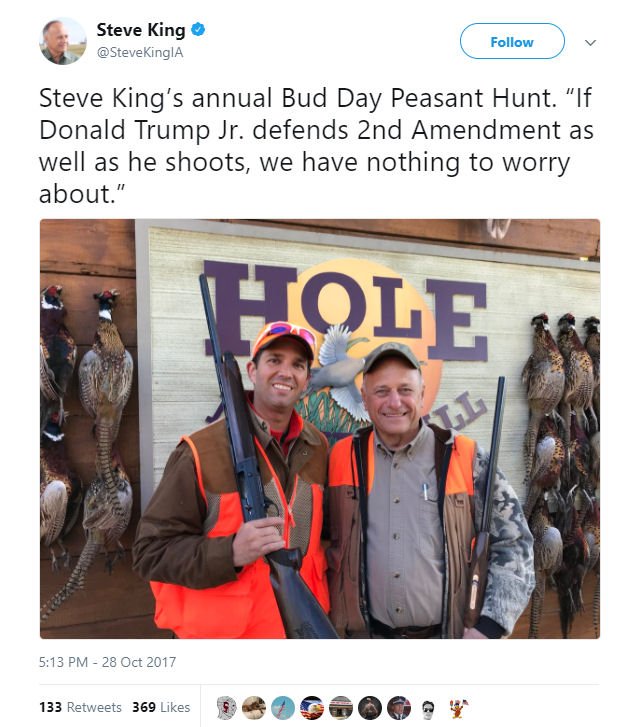 In Rep. King's tweet, you may have noticed the typo referring to a "peasant hunt." King quickly corrected his typo, but it was too late.
Almost immediately, the opposition started reacting to King's mistake.
Peasant Hunt is the most GOP thing, ever. https://t.co/sOXerdKNOc

— Comfortably Smug (@ComfortablySmug) October 28, 2017
I'm only like 60% sure he meant Pheasant Hunt https://t.co/kfDRXY4urH

— James Hell Brooks (@BobbyBigWheel) October 29, 2017
And my personal favorite retweet from @iamAtheistGirl:
don't kid yourself.. he meant peasant #PeasantHunt
nothing says love like murdering animals ? pic.twitter.com/Dbh8R7yNUK

— Atheist Girl ? (@iamAtheistGirl) October 29, 2017
I find it interesting, and unsettling, that people will use our beloved sport of hunting to harass those that they despise. It saddens me.
Nevertheless, I will stand by the side of those who love my sport and protect my right to bear arms!
Did you enjoy this post? CLICK HERE to view more articles by Blake Alma. Blake is a 17-year-old TV & radio host, published author, hunting activist, and creationist. You can check out Blake's site at www.blakealma.com.
WATCH
The post Rep. Steve King's Twitter Mistake About Pheasant Hunting With Donald Trump, Jr. Doesn't End Well appeared first on Wide Open Spaces.