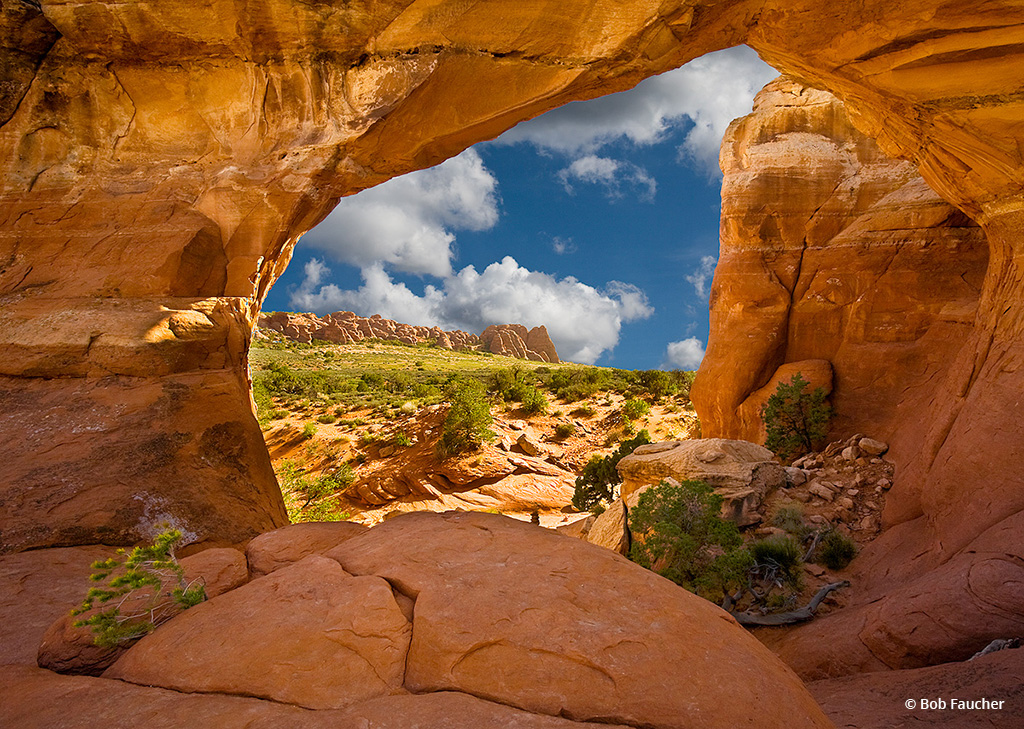 Congratulations to Bob Faucher for winning the recent Photographic Portals Assignment with the image, "Broken Arch View."
"Broken Arch in Arches National Park isn't really broken," explains Faucher. "However, it does have a large crack that's best seen from the backside of the Arch. The approach to Broken Arch from the parking lot at the Sandstone fins to the southwest is across a broad flat plain that becomes a bit undulating as you near the arch. The trail features beautiful wild flowers and is good for all skill levels. It's primarily used for hiking, walking, nature trips and birding, and is accessible year-round. The best views of the arch are looking south through the arch back towards the trailhead.  To get this view, climb through the arch, which requires scaling a steep, solid scarp face. The sandstone fins of the Fiery Furnace are then seen in the distance, approximately 1.2 miles away. The steep, sharp wall of rock directly behind the arch provides warm reflected light on the arch later in the afternoons, which helps to open shadows. The trail is never busy, even in the summer, so the view will generally be unobstructed."
Canon EOS 5D, Canon EF 16-35mm @ 16mm, Gitzo tripod, RRS BH-55. Exposure: RAW capture, f/20 @ 1/8 sec, +1.67 EV, ISO 100, Auto exposure, Partial metering, Manual WB.
See more of Bob Faucher's photography at www.faucherphotography.com.
The post Photographic Portals Assignment Winner Bob Faucher appeared first on Outdoor Photographer.