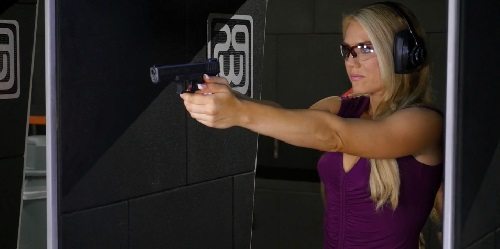 The National Shooting Sports Foundation® (NSSF®), the trade association for the firearms industry, is pleased to announce the release of an all-new "Introduction to Range Safety and Etiquette" video. Designed to provide guidance for firearms use on shooting ranges both indoors and outdoors, the video is available to both industry members and the general public through the Vimeo streaming site and on nssf.org.
The new video replaces an older, dated version on the subject and is set against the backdrop of a brightly lit, modern and well-appointed shooting range. The female moderator articulates the basic rules of gun safety, especially as they apply to use on an indoor firearms range, before covering an array of range etiquette topics such as range officer commands, how to uncase your firearm on the range when you first arrive and what to do if a firearm is accidentally dropped on the range. There are also safety tips specific to handling either semi-automatic handguns or revolvers.
"More than ever, NSSF is focused on helping our industry better engage their customers. Paramount to that is ensuring all shooters have a pleasant and safe experience every time they head to the range for a practice session," explained Zach Snow, NSSF Director, Shooting Range Services. "This is particularly important for those coming to firearms ownership and the shooting sports for the first time, and this video will go far to making that first time on the range safe and fun for everyone."
NSSF encourages its range members to download this video now and make it available to their customers, either through a monitor streaming the video or as required viewing for newcomers. Gun clubs and firearms and hunter safety instructors are encouraged to use it in the same manner, and store-front FFLs are urged to include the video as part of their safety curriculums and first-time firearms purchaser education programs. For more information in NSSF's many firearms safety and shooting programs, visit www.nssf.org.
---
More NSSF News
NSSF/SAAMI JOINT STATEMENT ON LAS VEGAS TRAGEDY …  The National Shooting Sports Foundation (NSSF) and the Sporting Arms and Ammunition Manufacturers' Institute (SAAMI) recently issued a joint statement regarding the criminal attack in Las Vegas. Our thoughts and prayers continue to be with the families and loved ones of all those killed and injured.
HUNTING WORKS FOR ILLINOIS … The Hunting Works For America footprint has grown yet again and now includes a state chapter in Illinois. Hunting Works For Illinois joins other Midwestern states in the program, including Michigan, Wisconsin, Minnesota, North Dakota and Iowa. All told, the Hunting Works For America program now includes 16 states, at least one in every region of the continental United States.
The September 2017 NSSF-adjusted National Instant Criminal Background Check System (NICS) figure of 1,019,037 is a decrease of 11.9 percent compared to the September 2016 figure. The third-quarter 2017 figure of 2,947,612 is a decrease of 16.2 percent compared to the third-quarter 2016. Log in to learn more.
The U.S. Departments of State and Commerce have sent proposed Export Control Reform rules to the Office of Management and Budget (OMB) for review before publication in the Federal Register for public comment, an important step to transitioning export licensing of commercial firearms, ammunition and optics.
U.S. Sen. Lindsey Graham (R-S.C.) introduced S.1854, the Federal Firearms Licensee Protection Act of 2017, which will strengthen the criminal penalties for thefts of firearms from retailers and impose mandatory minimum sentences.
Today, the 9th Circuit Court of appeals, sitting en banc, ruled in Teixeira v. Alameda County that "the Second Amendment does not confer a freestanding right, wholly detached from any customer's ability to acquire firearms, upon a proprietor of a commercial establishment to sell firearms."
NSSF is pleased to share its latest Q&A feature with an elected official who supports hunting and the shooting sports. NSSF thanks Congressman Gene Green (D-Texas, 29th) for agreeing to be featured.
The Wisconsin Senate Committee on Sporting Heritage, Mining and Forestry approved NSSF-supported Senate Bill 362, which improves the state's hunting mentorship program by lifting the 10-year-old minimum age requirement and allowing more than one gun or bow to be used between mentor and apprentice.
Save
Save
The post NSSF Bullet Points – Weekly Firearms Industry Newsletter 10-12 appeared first on ODU Magazine-North America's #1 Digital Fishing Magazine.