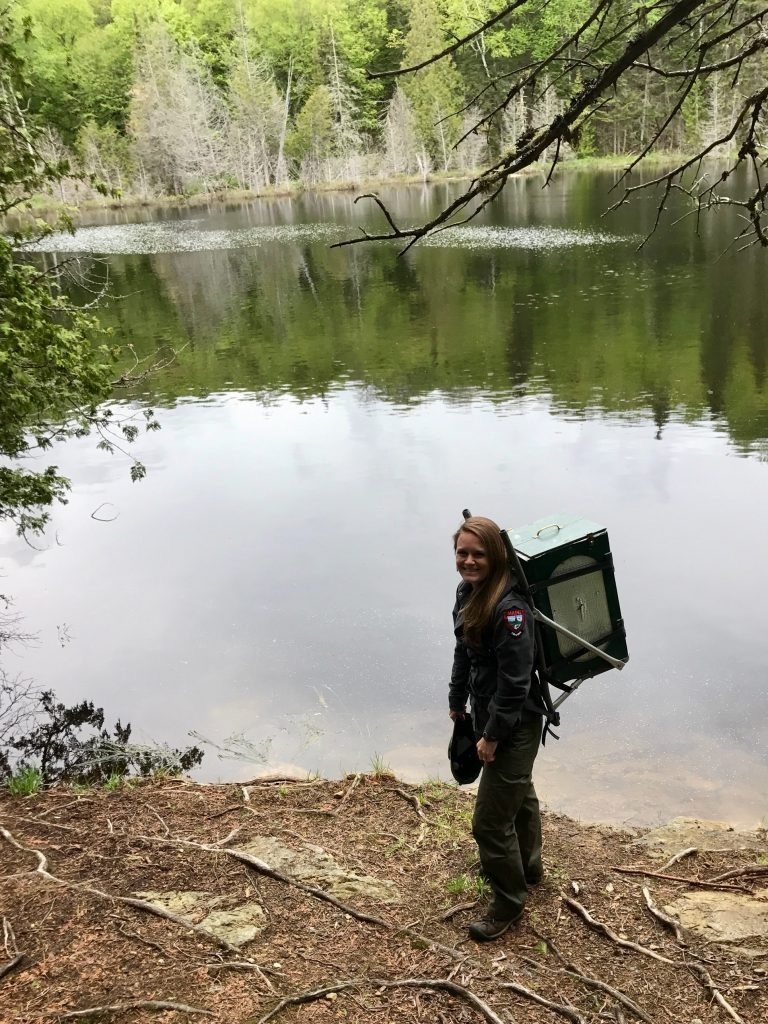 We are at the beginning of Fall and water temperatures are just below their peak. This can make it difficult for anglers to locate actively feeding brook trout in a small pond setting. However, with a little effort, there are ponds that don't warm up to levels that suppress active feeding behaviors. In the western Maine mountains, there are a number of higher elevation ponds where trout can be targeted with success all summer and into the fall.
The Horns Pond is located at 3130 feet in the Bigelow mountain Range in Wyman Township, Franklin County. It is reached via The Horns Pond Trail from the south. The trail begins near Stratton Brook Pond east of the village of Stratton in the town of Eustis. It is a long, but rewarding, 4-mile hike to the pond, which is adjacent to the Appalachian Trail.
To ensure a steady population of brook trout in The Horns Pond, a few hundred trout fry are annually backpacked in by IF&W staff. Each year a small fish sample is collected to monitor the growth and condition of these fish. Also, over the last few summers, the Maine Appalachian Trail Club has conducted angler counts and surveys to give us insight as to the levels of angler use and fish harvest.
Brook trout are plentiful in this high-elevation water, which is annually stocked by airplane each fall with few hundred fingerling brook trout. Our last resurvey of the pond in 2014 found the trout to be in good condition and surviving at least into their third summer. For the first time, this pond is also having an angler survey being conducted this year. The Appalachian Mountain Club is collecting information very similar to the surveys being done at The Horns Pond. It will be interesting to compare these mountain pond fisheries when the data is compiled.
A couple other high-elevation hike-in ponds in the northwestern part of the state that are stocked with brook trout are Tumbledown Pond in Township 6 N of Weld and Mountain Dimmick Pond in Caratunk. If you decide to try fishing either Speck or The Horns Ponds, please make an effort to speak with the area caretakers to log in your angling report before you head back down the hill.
The post Mountaintop Ponds Offer Fine Fishing, Excellent Experience In Fall appeared first on ODU Magazine-North America's #1 Digital Fishing Magazine.