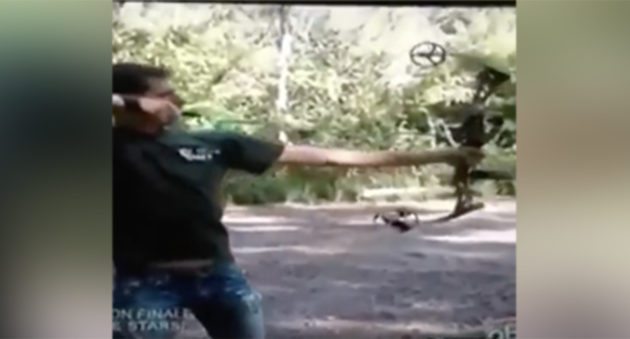 It is never wise to shoot a bow with a heavier draw weight than you can handle.
This archer tries to push the limits with a compound bow and it ends poorly. Watch and learn how not to shoot a compound bow.
Jay Stewart shared a worthwhile lesson on Facebook with this epic archery fail video. In an attempt to draw back a compound bow that's obviously too powerful for him to handle, this archer runs into trouble as soon as he tries to release the arrow.
How did he get a whole face of bow anyway? His grip must have been weak on the bow.
One has to wonder how many teeth this guy had after his bow accident? This is definitely something no one would ever want to try to replicate.
Do you like articles about the outdoors? Click here to view more articles by Eric Nestor. You can follow him @ericthewoodsman on Twitter, The Classic Woodsman on Facebook, and @theclassicwoodsman on Instagram.  You can view more Nestor Photography photos at Nestor Photography.  
NEXT: SPOT MORE PREDATORS AT NIGHT WITH THE NIGHT EYES SCAN LIGHT
The post How Exactly NOT to Shoot a Compound Bow appeared first on Wide Open Spaces.