From the precision of the individually hand laid hulls to the aerated storage compartments, Recon Boats leaves other manufacturers saying "Why didn't I think of that?" Here is a short list of things that make Recon one of the best boats on the market…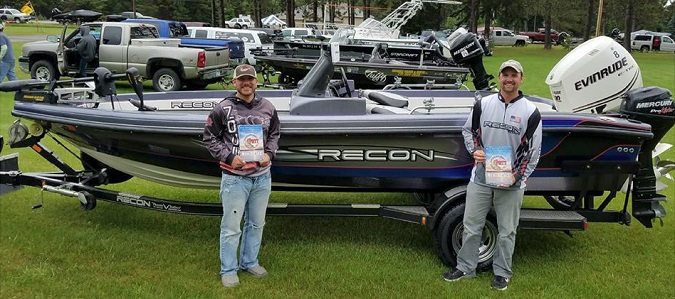 Versatilite! – 3 overall lengths to choose from (17ft, 19ft & NEW 21ft)

Multiple windshield configurations per size to fit EVERY anglers preference!

21 position 9'6″ rod locker (on 19′ & 21′ boats)

52″ Rear livewell

Aerated storage compartments

Custom boat covers made in house

Custom upholstery made in house

Custom Recon trailers with LED lights
Link to their page  http://reconboats.com/
All Recon boats are manufactured in Iola, Wisconsin using American workers and American products! To further our commitment to US Manufacturing, Recon Boats is the "official boat" of Take a Vet Fishing. Take a Vet Fishing is a registered 501 (c) (3) organization dedicated to taking US Military Veterans with Post Traumatic Stress Disorder into the outdoors. Recon Boats will Always support our active and retired US Military Veterans!
Our slogan is "A Day of Giving Back" and is the core of our mission. When our brave service men and women return from overseas, as a nation, we have been failing to show these heroes our appreciation. A shockingly high number of service members are returning with injuries and even the soldiers without physical wounds are having a hard time adjusting back into the "real world". These "Heroes" have given so much of themselves for our freedom. Reaching out and offering a "Thank You" with a hand shake, is the very least we can do. At Take a Vet Fishing, we take it a step further. Not only do we show these heroes our gratitude and shake their hand, we hand them a fishing rod and ease their minds back into civilization.
John Johnson – Founder
Nothing inspires fisherman more than being on the water. I started building boats in 1985. My passion for boat building allowed me to purchase the molds of Euroline and Recon Boats was born. I started Recon Boats in 2006 to provide a high quality fishing boat with a modest price point for the serious multi-species angler. Recon Boats was developed first and foremost with the angler in mind. We were the first in class with a 52″ live well and our 21 position 9'6″ rod locker is unmatched by any other boat brand in its class. In addition to Recon boats, I also build a professional line of competition ski boats called the Dynaski. Ski teams such as Beaverland Muskies and Badgerland use our boats exclusively!
I hope you enjoy Recon Boats as much as I enjoy building them!
Save
The post Have You Heard Of Recon Boats appeared first on ODU Magazine-North America's #1 Digital Fishing Magazine.