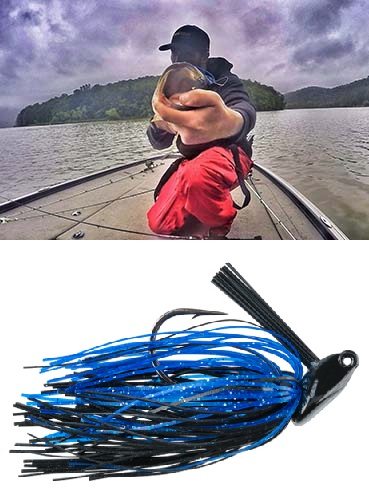 Bass anglers, especially those in the South and East, seem to be faced with high water levels, fueled by frequent rainstorms, this spring. It's certainly the case in many Pennsylvania rivers and reservoirs, according to Booyah ambassador and tournament angler Ty Spade.
"It's been one storm after another here," he said. "What's more, water temperatures haven't come up much since they hit the 60s about six weeks ago. It's been like a prolonged spring season."
Prespawn or post, a river or lake that's experiencing rising water presents a challenge to many anglers, he added. "They might catch the heck out of them one day, then go back to the same spot a couple of days later and get nothing. More than likely it's because the water had come up and got some color to it, and the fish moved toward the bank. Levels don't have to rise much, or the water to get real muddy, to get bass moving toward the shallows."
It happened to Spade just recently. "I'd been crushing smallmouths on a jerkbait along a particular bank," he explained. "A few days later I was back with a couple of friends, but when we got there I noticed that the water had come up and was a little dirty. It didn't look good for jerkbaits, but my friends really wanted to fish them, so we gave it a try."
After a while, with little success, Spade moved to the bank and started flipping a 3/8-ounce, black-and-blue Booyah Bankroll Jig tipped with a YUM Christie Craw in and around shoreline brush. "I absolutely started smashing them again.
"Smallmouths prefer deeper water, and a lot of fishermen don't think you can catch them flippin' shallow cover. But if you come back to a spot where you'd caught them before and see stained water going 5 miles in each direction—guess what? Those smallies didn't swim 5 miles to find clear water; they're up at the bank.
"I almost always start flippin' with a Bankroll Jig because of its stand-up style, and the craw has the kicking action you want in dirty water," he said. "But if the cover is too thick, or the fish want something with a smaller profile, I'll go with a Texas-rigged Christie Craw or Christie Critter.
"Once in a while, though, I'll see a fish behind the bait, but won't get bit," he added. "What that tells me is that they want a moving lure, and I'll tie on a Booyah Swim'n Jig tipped with a Christie Craw or some other soft plastic. I love that jig for this situation because you can skip it under the bushes or into a laydown and really pick the cover apart."
Flipping soft plastics may not register with many smallmouth anglers, but if high, murky water has you stumped when you're chasing bronzebacks, follow Spade's lead and head to the bank.
Save
The post Flippin' for Smallmouths appeared first on ODU Magazine-North America's #1 Digital Fishing Magazine.