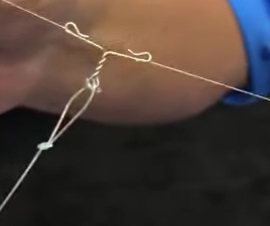 New from Bullet Weights®, the Mr. Crappie

Add-A-Hook makes fishing easier and more productive by eliminating the time and effort needed to tie knots.
With the Mr. Crappie Add-A-Hook, anglers can create a double fishing rig in seconds rather than minutes, which means more pole-in-the-water time. Mr. Crappie Add-A-Hook's design prevents slipping for a perfect hook set on every bite.
"Many people troll for crappie or they want to put another hook on the line without having to re-rig," said Wally "Mr. Crappie" Marshall, professional angler and winner of many crappie tournaments across the U.S. "But nobody likes tying a bunch of knots, so I came up with the Mr. Crappie Add-A- Hook."
The Mr. Crappie Add-A-Hook has an eyelet in the middle with a snap on each end. Anglers simply wrap the line four or five times around each end, then pull the line into the snaps. This allows quick, precise adjustment of bait staging to the desired position without having to re-tie.
"When you're tying rigs, you have the problem of trying to figure out how much space you need for knots," Marshall said. "That's not a problem with the Mr. Crappie Add-A-Hook. You can put it exactly where you want it and it's a done deal. This saves time and we all know that time is money, especially for a fishing pro or guide."
The Mr. Crappie Add-A-Hook prevents stress on the line that can be caused by knot tying. It is made of stainless steel, so it does not rust.
"Whether you're a weekend angler, tournament competitor or fishing guide, the Mr. Crappie Add-A-Hook offers real benefits," said Bullet Weights President Joe Crumrine. "It is a game-changing addition to our Mr. Crappie line, and will help anglers have more fun and success on the water."
The Mr. Crappie Add-A-Hook will be available to consumers in January 2019. Manufacturer's suggested retail price is $3.99 (10 to a pack). For more information on the Mr. Crappie Add-A-Hook, check out the YouTube video at https://www.youtube.com/watch?v=vG98wmzI0XY.
Headquartered in Alda, Nebraska, Bullet Weights is a leading manufacturer of fishing sinkers and accessories. The company offers fishing sinkers made of lead, steel (Ultra SteelÒ), tin (Ultra TinÔ), tungsten and brass. Bullet Weights products are available in fishing tackle retailers, sporting goods stores and sporting goods departments of mass merchants. For more information, visit www.bulletweights.com.
The post Bullet Weights Offers New Mr. Crappie Add-A-Hook appeared first on OutDoors Unlimited Media and Magazine.