Wild salmon off the B.C. coast are swimming metres away from a stream of blood pouring into the water — the byproduct of farmed-salmon being processed at Brown's Bay Packing Company, near Campbell River, B.C.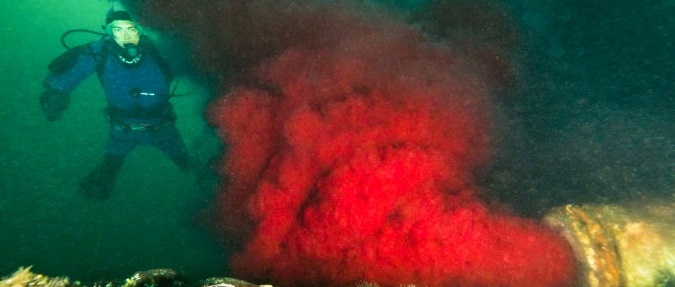 Underwater videographer and naturalist Tavish Campbell filmed fish blood being released into B.C. waters. He says he wasn't prepared "for how shocking it was to see the blood flowing out" — even though he knew about it for some time.
The dive to reach the end of the pipe was 90-feet deep, meaning Campbell was in complete darkness.
"As I approach the pipe, my lights illuminated just this huge billowing cloud of blood being released into the bay and in that blood, you could see thousands of shimmering scales kind of flowing up into the water column," Campbell tells The Current's Anna Maria Tremonti.
On the day this dive was filmed, Campbell says the Brown's Bay Packing Company was processing Atlantic-farmed salmon from a farm in the Discovery Islands. The processing plant says they disinfect the effluent before it's released into the water.
To make sure this wasn't an isolated incident, Campbell did another dive in Tofino near Lions Gate Fisheries. He says he discovered the exact same thing from a plant processing Chinook salmon on a farm in Clayoquot Sound owned by Creative Salmon.
Campbell collected blood samples and sent them to the Atlantic Veterinary College for testing, with the co-ordination of independent scientist and activist Alexandra Morton. The tests showed the effluent contains a dangerous fish virus known as Piscine Reovirus (PRV).
The test results has pushed the federal government to act. Fisheries and Oceans Canada has launched a review into what exactly this effluent contains.  
But to Morton, the government's lack of response thus far is irresponsible.
"I was shocked at the carelessness of government to allow this amount of blood from farmed salmon which we know are infected with several viruses to pour into the major migration route of all of Canada," she tells Tremonti after watching the footage of Campbell's video.
The B.C. salmon farmers association says PRV is common in the ocean, in wild and farmed fish, and it's not a virus known to cause illness in fish.
"That's a pretty shocking statement. Oh, it's definitely known to cause illness in fish," says Morton.
"In fact, Fisheries and Oceans scientist Dr. Kristy Christy Miller found it in a farm, causing disease, right near where the blood pipe is. Furthermore it's widely known in Norway to cause disease."
PRV is a difficult virus for fish farmers, says Morton, because over 80 per cent of farmed salmon in B.C. are infected.
"Minister Dominique LeBlanc doesn't want to prohibit the transfer of infected fish into these farms," says Morton, adding that's how it gets into the blood pipe, after these fish are taken into processing.
"We have laws in Canada that say you cannot put diseased fish into the ocean."
Continue reading and see the video at this link — http://www.cbc.ca/radio/thecurrent/the-current-for-november-30-2017-1.4425138/blood-discharge-spewing-into-b-c-ocean-infecting-salmon-scientist-1.4425193
The post Blood discharge spewing into B.C. ocean infecting salmon appeared first on ODU Magazine-North America's #1 Digital Fishing Magazine.